Bill Nye took his time as Rutgers University's commencement speaker to urge graduates to take action on climate change.
"We are now deep in the most serious environmental crisis in human history," Nye said, according to a transcript of his remarks provided by Rutgers. He added that "denying it is in no one's best interest."
After explaining the massive global population increase which affected the environment, the "Science Guy" told graduates they need to do what they can to ameliorate climate change, whether by technological advances or -- more quickly -- legislative movements. Nye said graduates need to vote for politicians and measures that will help the environment.
"Class of 2015, you have to vote!" Nye said. "For those of you who don't want to participate -- who don't want to vote, would you please just shut up, so the rest of us can get things done?"
Essentially, Nye said, this generation needs to find ways to provide two things to everyone on the planet: electricity and clean water. This will require technical solutions, which Nye believes can be achieved by this class of graduates -- "The Next Great Generation," he claimed.
Amid talk of climate change, Nye took a moment to address the need to continue space exploration and racial issues.
"The color of our ancestors' skin and ultimately my skin and your skin is a consequence of ultraviolet light, of latitude and climate," Nye said. "Despite our recent sad conflicts here in the U.S., there really is no such thing as race. We are one species -- each of us much, much more alike than different."
Nye concluded his speech with two endearing thoughts. The first was that "everyone you will ever meet knows something you don't," and therefore you should listen to others and "respect their knowledge."
His final point was that even though each human is just "a speck on a speck orbiting a speck in the middle of deep spacey specklessness," we are important thanks to our brains and imagination.
"I have a brain, albeit only this big … And I can imagine all of this. That is wonderful. That is remarkable. That is venerable -- worthy of respect!" Nye said.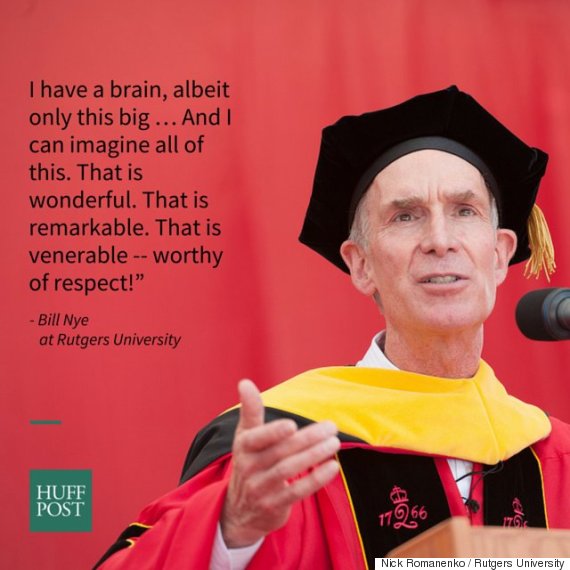 Calling all HuffPost superfans!
Sign up for membership to become a founding member and help shape HuffPost's next chapter