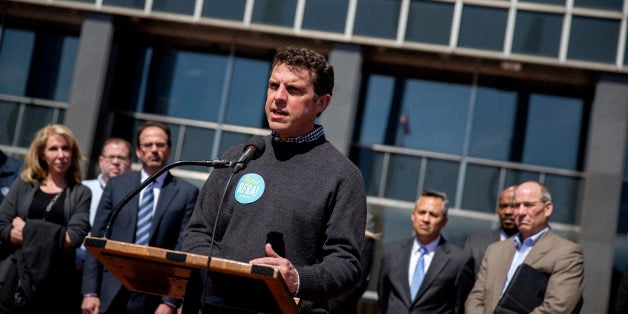 WASHINGTON -- During the recent debate over Indiana's "religious freedom" law, there were few critics as outspoken as Angie's List CEO Bill Oesterle. Oesterle canceled a $40 million expansion of the company's headquarters in Indianapolis out of concern the law would discriminate against members of the lesbian, gay, bisexual and transgender community. And his opposition was especially stinging because he was a fellow Republican, previously serving as a staffer to former Gov. Mitch Daniels (R).
On Wednesday, Oesterle announced he was stepping down from his position at Angie's List, leading to speculation in the state that he may be looking to challenge Gov. Mike Pence (R).
Oesterle later on Wednesday confirmed his interest in returning to politics in an interview with The Statehouse File. He said he had no immediate plans to run for governor, although he wasn't ruling it out. Oesterle lamented that Pence signing the Indiana Religious Freedom Restoration Act into law "badly damaged" the state's reputation, and said the task now was to repair it.
"I haven't figured out how I'm going to do that," Oesterle admitted. "That could involve helping somebody else run. That could involve working on legislative races. That could involve becoming a candidate myself."
Pence may be vulnerable to a challenge now, whether from a more moderate Republican or from a Democrat. A Human Rights Campaign poll found that Pence took a hit from the controversy. Twenty-nine percent of Republicans said RFRA soured their impression of the governor; 53 percent of swing voters also had an unfavorable impression of Pence. The survey, conducted by Greenberg Quinlan Rosner Research, found Pence deadlocked in a hypothetical race against former Indiana House Speaker John Gregg (D), who narrowly lost to Pence in 2012.
A spokesman for Pence's campaign had no comment on Oesterle's resignation.
Late last month, Pence signed RFRA, which would have allowed any individual or corporation to cite its religious beliefs as a defense when sued by a private party. Many opponents of the bill pointed out that because the legislation's language was so broad, it would have opened the door to widespread discrimination against LGBT individuals.
After significant backlash both nationally and within Indiana, Pence eventually supported a revised version of the measure that made clear RFRA could not be used by businesses to discriminate on the basis of sexual orientation and gender identity.
Oesterle said at the time that the new language was "insufficient," saying his company wanted to see full RFRA repeal and LGBT protections written into law.
If he ran, Oesterle would no doubt use his support for LGBT equality and business background as a contrast to Pence and his more socially conservative positions. A poll conducted last month found that education and the economy are the top issues for Hoosiers.
Oesterle also managed Daniels' gubernatorial campaign in 2004, and according to the former governor, it was Oesterle who suggested adding sexual orientation and gender identity protections to the campaign's nondiscrimination policy.
On the Democratic side, to counter a business executive like Oesterle, some Hoosiers have been hoping that former Indianapolis Mayor Bart Peterson (D) could also run for governor. Peterson is now an executive with Eli Lilly and was also instrumental in getting the "fix" to RFRA.
WISH TV also reported Wednesday that signs saying "Pence Must Go" have been popping up around the state.
"When he signed that bill, basically discriminating against the LGBT community, it made me angry," said Kevin Warren, who is selling the signs. "This gave me an opportunity to fight back. I've sold about 400 to 500 so far."
Want more updates from Amanda? Sign up for her newsletter, Piping Hot Truth.
Calling all HuffPost superfans!
Sign up for membership to become a founding member and help shape HuffPost's next chapter