An Ohio Supreme Court justice who is campaigning to become governor of the state took to Facebook on Friday to reveal that he has been "sexually intimate" with 50 "very attractive females."
It was a startling campaign strategy in the wake of a burgeoning number of sexual misconduct accusations across the nation and one that triggered tremendous controversy in Ohio. Democrat Bill O'Neill's campaign spokesman quit within hours of the post.
"Now that the dogs of war are calling for the head of Senator Al Franken I believe it is time to speak up on behalf of all heterosexual males," O'Neill wrote on Facebook, vowing to save his critics "some research time."
"In the last fifty years I was sexually intimate with approximately 50 very attractive females," O'Neill wrote. "It ranged from a gorgeous personal secretary to Senator Bob Taft (Senior) who was my first true love and we made passionate love in the hayloft of her parents barn and ended with a drop dead gorgeous red head ... in Cleveland."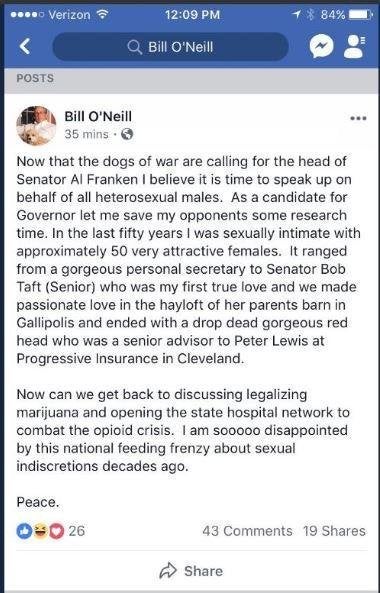 O'Neill said he revealed his sexual past to protest what he sees as a new standard, "driven by the media, that if you're not absolutely pure you're not eligible to run for office in America," he told the local Fox News station. "That's wrong."
The candidate was slammed by both Democrats and Republicans who criticized him for appearing to make light of sexual harassment and assault with his boasts. Lt. Gov. Mary Taylor, a Republican candidate for governor, criticized the "crass post" that's "dismissive at best."
In a local interview, O'Neill also defended Franken (D-Minn.), who has apologized for forcibly kissing and groping broadcaster Leeann Tweeden in 2006, and Roy Moore, the Alabama Republican nominee for Senate who has been accused of sexual misconduct with teenagers when he was in his 30s.
While Moore appears to be "morally ... challenged," O'Neill conceded, he hasn't yet been convicted of a crime, he told Cleveland.com. "He's been convicted of nothing and he's never had the opportunity to defend himself and that violates due process in America."
The candidate, who is ignoring calls to quit the race — and the bench ― deleted the 50-lovers post but added a clarification Friday on Facebook concerning Franken. O'Neill called it "morally wrong" to demand Franken's resignation after the senator apologized for a "non criminal act of indiscretion." O'Neill concluded: "Lighten up folks. This is how Democrats remain in the minority."
A number of former O'Neill backers responded on Facebook saying they could no longer support him. One noted that groping a woman without her consent is not an "indiscretion."
O'Neill campaign spokesman Chris Clevenger called the comments "disturbing and misguided" in a tweet as he announced he was resigning from the campaign.
Popular in the Community