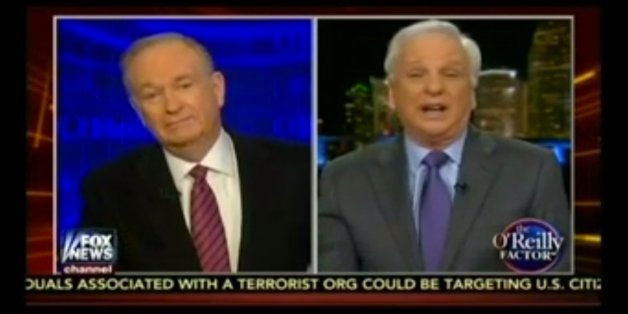 Fox News commentator Bernie Goldberg just did what few before him have ever done: He called out Fox News for being biased ... while on Fox News.
While talking to Bill O'Reilly about the influence the media will have on the upcoming 2016 presidential election, Goldberg interjected to criticize O'Reilly's previous "Talking Points Memo."
"What I think you went wrong with is not what you put into the memo, that was fine, but what you left out of the memo," he said. "What you left out is the hyper-partisanship on both sides in the media. Liberal news organizations are going to play down liberal screw-ups, but Fox News is gonna play down conservative screw-ups," Goldberg said on "The O'Reilly Factor" Thursday evening.
O'Reilly jumped in right away to defend himself and his program, arguing that he has plenty of guests from both sides.
"This program is not all of Fox News," Goldberg said.
The two continued to go back and forth, with O'Reilly shouting about other Fox News personalities like Chris Wallace, Bret Baier, Megyn Kelly and Greta Van Susteren who he believes are also fair and unbiased in their reporting.
"So Fox isn't the conservative network, is that what you're trying to tell us?" Goldberg asked.
"I never bought that, that Fox is the conservative network," O'Reilly responded. "I buy that Fox gives traditional conservatives a voice that they don't have on the other network."
Related
Popular in the Community