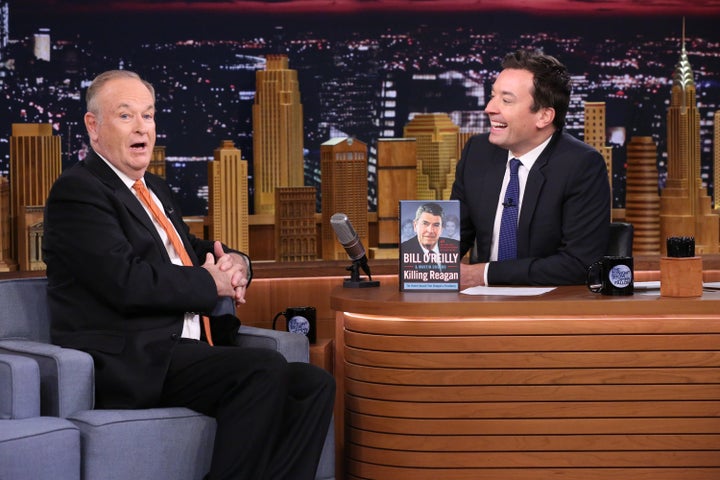 Although an investigation into his alleged sexual harassment has led to Bill O'Reilly's dismissal from Fox News, the right-wing media personality will still have a platform, courtesy of his book publisher.
Publisher's Weekly reported Wednesday that Henry Holt ― an imprint of Macmillan ― "has no intention of altering its support of the bestselling author."
Just last month, O'Reilly released a commercial successfully book through Henry Holt called Old School: Life in the Sane Lane. The book ― a sendup of progressive values, from trigger warnings to safe spaces ― begins with a quiz, wherein readers can determine whether they're "Old School," or a "Snowflake."
Questions range from the politically divisive ("If someone wishes you 'Merry Christmas' what's your immediate response?") to the smug ("If you happen upon a raging warehouse fire late at night, do you: a) Hope the firefighters are safe and express concern for the people who work there during the day. b) Get out of your car and take a selfie with the fire in the background?")
The imprint's other recent releases include Elizabeth Warren's This Fight is Our Fight and Coretta Scott King's My Life, My Love, My Legacy.
It's unclear whether the publisher's decision to keep O'Reilly on its list is inspired by commercial or ethical aims. Publisher's Weekly points out that O'Reilly was the bestselling adult nonfiction author of 2016; his book Killing the Rising Sun sold over 1 million copies in print. With the ability to tout his titles on his show, he had the sort of built-in fan base that a debut author might not. But, a book market expert predicts that his sales will decline, especially from casual fans and women readers.  
Yiannopoulos' book was cancelled after the "alt-right" personality made a comment condoning pedophilia. Either the statement was finally an ethical breach the publisher was unwilling to accept, or it turned Yiannopoulos into a long-term financial liability. Most likely, it was some combination of the two.
Regardless, O'Reilly's charges seem not to have warranted such action just yet.
Calling all HuffPost superfans!
Sign up for membership to become a founding member and help shape HuffPost's next chapter
BEFORE YOU GO
PHOTO GALLERY
11 Great Debut Novels