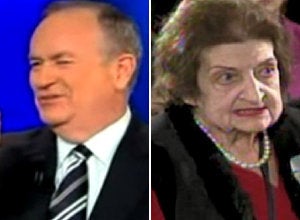 Bill O'Reilly called legendary White House reporter Helen Thomas the "wicked witch of the east" Monday night following President Obama's press conference.
"The White House press corps looked intimidated to me," O'Reilly said. "Except for that, what's her name? The old lady, Helen Thomas."
O'Reilly then squawked out a Helen Thomas impression.
"It's like the wicked witch of the east! If I were Obama I would've poured water on her, and she'd dissolve," he said.
"Bill, it's not nice to impersonate an old woman like that," Alan Colmes told him.
"Why can't my mom ask a question?" O'Reilly asked, trashing Thomas' question (about Taliban hiding in Pakistan).
"Helen Thomas' fifteen minutes were up during the Lincoln administration," Bernie Goldberg said later. "It's time for Helen to find something else to do during press conferences."
Related
Popular in the Community