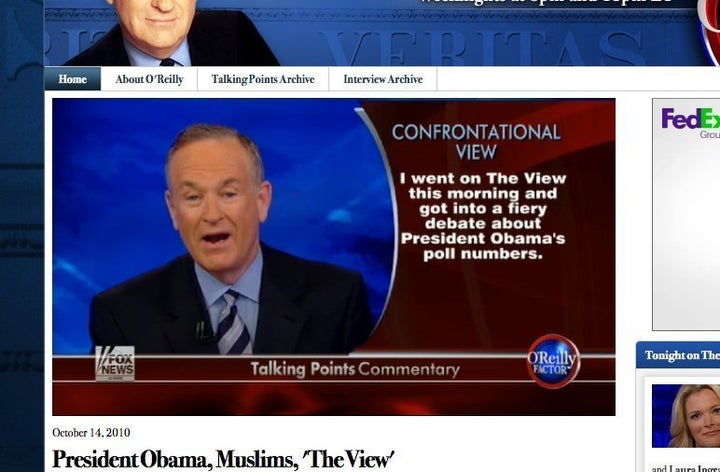 The night after his comments about Muslims made Joy Behar and Whoopi Goldberg walk off the set of "The View," Bill O'Reilly used his Thursday "Talking Points Memo" to defend himself.
O'Reilly replayed the full, explosive confrontation, including the comments which set Behar and Goldberg off -- when, during a heated exchange about the proposed Islamic center near Ground Zero, he said, "Muslims killed us on 9/11!" Goldberg and Behar objected vehmently, saying that "extremists" carried out the 9/11 attacks, and then walked off the set. (Both returned after O'Reilly apologized.)
On his show, O'Reilly did not back down from his words. "How did we get here?" he asked rhetorically. "Were we attacked by Japanese extremists [at Pearl Harbor]?"
He said that he did not want to insult Muslims, but was "tired of the political correctness surrounding the 9/11 attack. The truth is that if moderate Muslims around the world stood with Americans against radical Islam, the terrorists couldn't exist...I'm not in the business of sugarcoating harsh realities."
Still, O'Reilly appeared far from ruffled by the flap he caused. In fact, he said he loved the entire conversation.
He was not the only participant to use their own show to expand on the morning's clash. On her nightly HLN show, Behar discussed the confrontation as well, saying she could not take O'Reilly's "hate speech" and so had to leave the set.
Calling all HuffPost superfans!
Sign up for membership to become a founding member and help shape HuffPost's next chapter