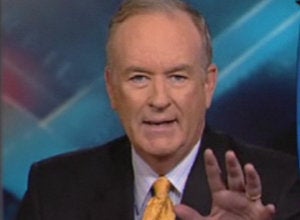 An interview with Bill O'Reilly was used to sell a financially dubious investment scheme--without his knowledge, he says.
The scheme was promoted by conservative magazine Newsmax. It involved an email titled "Watch Fox News' Bill O'Reilly and Esteemed Accountant Bill Spetrino Reveal Safe and Ultra-Profitable Steps You Need to Take Right Now to Protect Yourself From the IRS' Multibillion-Dollar Tax Onslaught!"
The email was sent to Kristof, who was the first to raise questions about O'Reilly's participation. It linked to a video featuring an interview with O'Reilly, who talked about which investments he thought viewers should make. (Sample: buy stocks that "are beaten up.")
In her column, Kristof described what happened next in the video:
The next "guest" is a smarmy-looking "accountant" named Bill Spetrino, who purports to agree with O'Reilly and offers a newsletter called "The Dividend Machine." But he adds that he has "something even better." Spetrino maintains that he's written a report about a "forgotten, seven-state Constitutional Clause" that guarantees generous tax-free "IRS payouts" of $1,196 or more. And, he's agreed to provide this report "free" to viewers of the show produced by Newsmax.
It turned out that Spetrino was advising viewers to invest in municipal bonds. All he was asking, he said, was $1 for a 60-day trial of the report. However, that $1 automatically turns into $99 a year once the trial period is over.
Kristof said that investments that seek to exploit "forgotten" loopholes are usually scams. "My guess is that [O'Reilly] was an unwitting dupe in a clever product pitch designed to look like a news show," she wrote.
In an interview with the Times, Fox News executive vice president Bill Shine said that the interview with O'Reilly had been set up by his personal agent, Don Walker, not through Fox. He also said that O'Reilly was unaware that the interview would be used to sell anything.
Walker told the paper that O'Reilly had explicitly told Newsmax they could not use his interview to promote any products.
The video went up in late June, and stayed there until Kristof raised questions about it on Tuesday. After her column, the video was yanked from the Newsmax site and all references to O'Reilly were removed.
O'Reilly is not the first Fox News host to be accused of helping to pitch financially dubious products. Most prominently, Glenn Beck has come under criticism for his participation in ads for Goldline, a gold dealer that many accuse of intentionally scaring consumers so they will buy gold at inflated prices.
Support HuffPost
The Stakes Have Never Been Higher
Related
Popular in the Community