Fox News host Bill O'Reilly, who prides himself on bluntly speaking his mind on air, was uncharacteristically silent on his Monday night show following new revelations about legal settlements paid to women accusing him of sexual harassment.
O'Reilly has previously used his television pulpit to attack a former Fox News producer who alleged in a lawsuit that "The O'Reilly Factor" star urged her to buy a vibrator and seemed to be masturbating on the phone. O'Reilly, on the air, blasted the 2004 suit filed by Andrea Mackris as "the single most evil thing I have ever experienced."
But on Monday night, O'Reilly kicked off his show with a report on the Senate fight over Neil Gorsuch's nomination to the Supreme Court. And throughout the program, it was business as usual, with coverage of familiar themes like the media supposedly being biased against President Donald Trump, and liberalism run amok on college campuses. O'Reilly closed the show by highlighting his donation to a child-health charity.
The 8 p.m. broadcast was O'Reilly's first since The New York Times reported Saturday that five women, including Mackris, received $13 million in settlements from lawsuits accusing O'Reilly of sexual harassment or other inappropriate behavior. The Times revealed three additional cases against O'Reilly that had not been previously reported.
O'Reilly said in a statement Saturday that he's "vulnerable to lawsuits from individuals who want me to pay them to avoid negative publicity" and that no one has filed a complaint with the Fox News human resources department.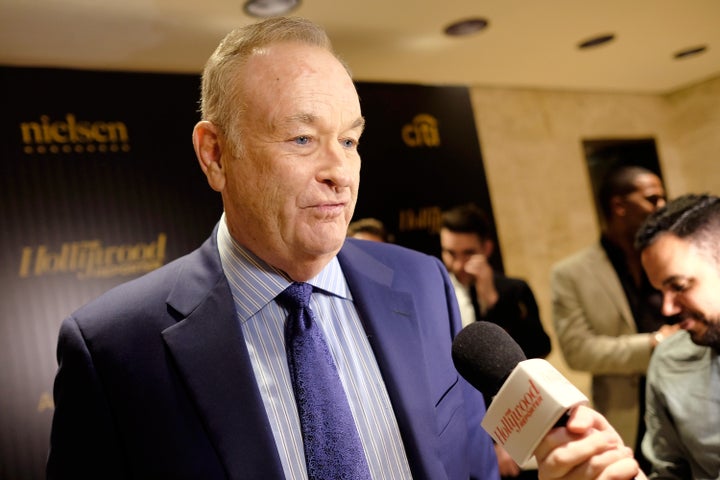 But not every accuser was employed by Fox News. A sixth woman, psychologist Wendy Walsh, said in a press conference Monday that O'Reilly reneged on a promise to help make her paid contributor after she declined his sexual advances. Her attorney, Lisa Bloom, urged state and local authorities to investigate persistent sexual harassment claims inside Fox News and said Walsh ― who is not suing O'Reilly ― would cooperate in an independent probe.
"No company in America has the right to normalize sexual harassment, and that includes Fox News," Bloom said. "No company in America has the right to drive out women who complain, and that includes Fox News. No company in America has the right to use its riches to flout the law, and that includes Fox News."
The press conference featuring Bloom and Walsh began hours after Fox News contributor Julie Roginsky filed a sexual harassment suit against former Fox News chairman Roger Ailes, who resigned in July following similar allegations from women inside and outside the network. Roginsky also sued co-president Bill Shine and the network for what she alleged was retaliation for not publicly defending Ailes last summer.
Even as Fox News continues to dominate cable news ratings, the network remains consumed by disturbing revelations about the toxic environment Ailes created and fostered for more than two decades.
Parent company 21st Century Fox recently settled a lawsuit from contributor Tamara Holder, who accused top executive Francisco Cortes of sexual assault.
So far, 21st Century Fox has stood by O'Reilly, whose show makes millions for the company, and even renewed his contract.
But shortly before O'Reilly's Monday program came news that would likely give pause to broadcast executives: Mercedez-Benz decided to pull its advertisements from the show.
Related
Popular in the Community