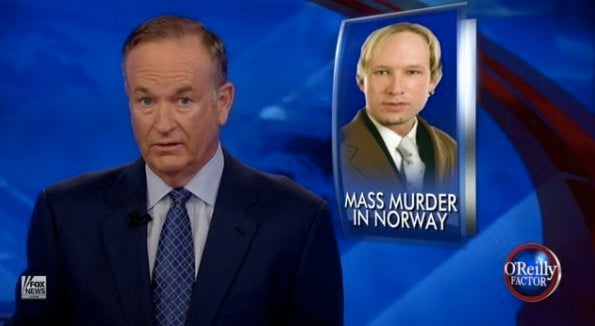 Bill O'Reilly sternly criticized the media for describing Anders Behring-Breivik, the man who has admitted to committing the mass killings in Norway, as a Christian, saying that such a thing was "impossible."
O'Reilly singled out the New York Times, which called Breivik a "Christian extremist" in an article. Breivik also referred to himself as a Christian, as did the Norwegian police, and his 1,500 page manifesto has been described as coming from a Christian perspective. In the manifesto, he writes that he does not have a "personal," religious relationship with Christ, believes in Christianity "as a cultural, social, identity and moral platform," which he says "makes [me] Christian."
To O'Reilly, though, it was "impossible" that Breivik is a Christian.
"No one believing in Jesus commits mass murder," he said. "The man might have called himself a Christian on the net, but he is certainly not of that faith...we can find no evidence, none, that this killer practiced Christianity in any way."
He said that the reason the media was calling Breivik a Christian was because "the left wants you to believe that fundamentalists Christians are a threat just like crazy jihadists are." O'Reilly called this notion "dishonest and insane," saying that no government was backing Breivik's ideology.
O'Reilly also said that the media "is pushing the Christian angle [because] they don't like Christians very much because we are too judgmental," and that the press want to "diminish" social and religious conservatives.

Related
Popular in the Community