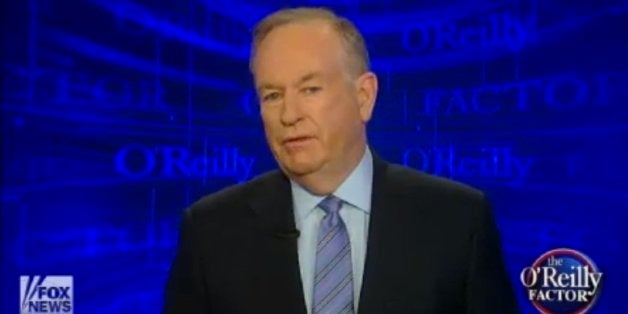 Bill O'Reilly is not backing down.
Monday night on "The O'Reilly Factor," the Fox News host invited former NBC News Miami bureau chief Don Browne to help corroborate his claims of having "reported on the ground in active war zones" and "survived a combat situation" during the 1982 Falklands War.
"In my reporting, I told it exactly the way it was," O'Reilly said. "Or did I make any mistakes, Mr. Browne?"
"No," Browne replied. "As the war went badly, there were demonstrations every day. There were tanks in the street. It was a country at war."
While American reporters were not allowed on the Falkland Islands during the war, O'Reilly and his crew were stationed in Buenos Aires. Much of the controversy hinges on whether the riots in Buenos Aires, located some 1,200 miles away from the heart of the fighting, constituted a "combat situation."
"Now, you say there were -- you were -- there were tanks in the streets," O'Reilly said. "You mean the streets of Buenos Aires, where we all were."
"Yes," replied Browne, later adding that it was a "very scary situation, where a lot of people died."
O'Reilly also interviewed Mediaite's Joe Concha, who wrote a column Sunday calling into question the motives of Mother Jones' David Corn and former CBS News correspondent Eric Engberg.
From the onset, O'Reilly has maintained that the Mother Jones story is a "political hit job" carried out by "far-left zealots." O'Reilly commended Concha's "courage" for writing his piece, given that he works for a "fairly left-wing" site known for criticizing the Fox News host.
"Skeptics -- largely from left-leaning blogs -- charge that Argentina wasn't part of the war zone, therefore making O'Reilly a liar for stating he was," Concha wrote. "But protests there following the war did turn violent."
"Welcome to the Hunger Games that the media has become in 2015: A polarized game of survival where media members are taking sides against each other," he continued. "And the general public yawns at the ridiculousness of it all."
Calling all HuffPost superfans!
Sign up for membership to become a founding member and help shape HuffPost's next chapter