An overwhelming majority of Bill O'Reilly's viewers still approve of the controversial Fox News pundit despite a rising tide of sexual harassment allegations against him, according to a HuffPost/YouGov survey conducted over the weekend.
Slightly more than 85 percent of Americans polled who sometimes or regularly watch "The O'Reilly Factor" say they're aware of the recent controversy surrounding its host.
Earlier this month, a New York Times investigation revealed that five women who had accused O'Reilly of sexual harassment or inappropriate behavior over the past 15 years received a combined $13 million to settle their claims. The alleged behavior included verbal abuse, unwelcome sexual advances and calls in which O'Reilly could be heard masturbating over the phone.
Most "O'Reilly Factor" viewers are unfazed: 65 percent hold a favorable view of O'Reilly, according to the HuffPost/YouGov survey. Just 17 percent say they think his show should be canceled in light of the controversy. Among Republican viewers, only 9 percent want to see the show canceled.
A man accused of sexual assault by more than a dozen women now sits in the White House, so perhaps O'Reilly's continued popularity isn't too surprising. Among respondents who said they watch "The O'Reilly Factor" sometimes or regularly, 60 percent are men, 66 percent lean or identify as Republican and 52 percent voted for President Donald Trump.
The ratings for O'Reilly's primetime show have been strong throughout the controversy, and his new book, Old School ― about "old school" values ― is at No. 1 on The New York Times best-seller list.
Other things have gone less well for O'Reilly since the Times bombshell. More than 50 companies have pulled advertising from his show. Dr. Wendy Walsh, a former guest on the show, accused him of retaliating against her after she turned down his sexual advances. Parent company 21st Century Fox has launched an internal investigation, conducted by an outside law firm, into O'Reilly's behavior.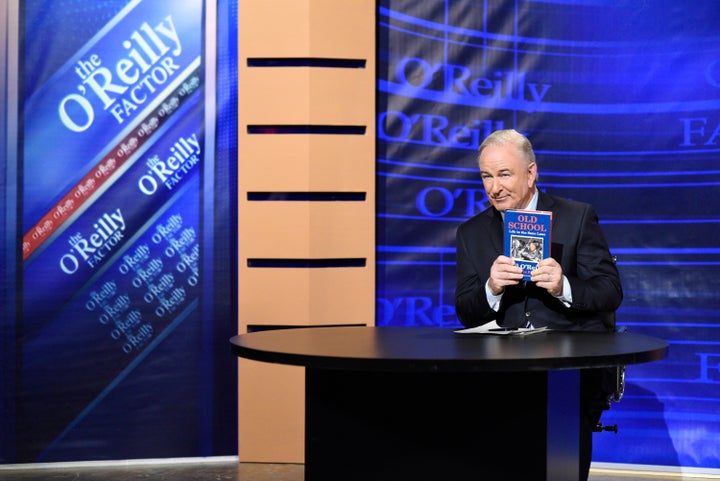 O'Reilly is currently on vacation as Fox executives reportedly ponder his fate. He's scheduled to return next week.
In other words, paying out a few million to the women who say O'Reilly harassed them worked just fine for Fox for more than a decade.
But the accusations against O'Reilly's have other costs. Companies send a strong signal to their employees ― and the world ― when they continue to defend men against a preponderance of sexual harassment charges: We don't really care how you're treated here.
It's similar to what O'Reilly himself said last year when his boss, Roger Ailes, was facing a raft of harassment allegations.
"If you don't like what's happening in the workplace, go to human resources or leave," he told viewers. Of course, women are unlikely to go to the human resources department to complain about the CEO ― the man who runs the HR department.
Journalist Megyn Kelly abandoned her perch at Fox partly because of these comments from O'Reilly, The New York Times reported this weekend. She was instrumental in Ailes' ouster and was fighting for women inside the company to come forward with their stories, but reportedly thought O'Reilly's remarks would discourage them.
Ailes was ultimately ousted, receiving a $40 million severance from Fox. Gretchen Carlson, the former Fox host who accused him of harassment and sparked his removal, received a reported $20 million.
Use the widget below to further explore the results of HuffPost/YouGov's survey, using the menu at the top to select survey questions and the buttons at the bottom to filter the data by subgroups:
The HuffPost/YouGov poll consisted of 1,000 completed interviews conducted April 14-15 among U.S. adults, using a sample selected from YouGov's opt-in online panel to match the demographics and other characteristics of the adult U.S. population.
The Huffington Post has teamed up with YouGov to conduct daily opinion polls.You can learn more about this project and take part in YouGov's nationally representative opinion polling. Data from all HuffPost/YouGov polls can be found here. More details on the polls' methodology are available here.
Most surveys report a margin of error that represents some, but not all, potential survey errors. YouGov's reports include a model-based margin of error, which rests on a specific set of statistical assumptions about the selected sample, rather than the standard methodology for random probability sampling. If these assumptions are wrong, the model-based margin of error may also be inaccurate. Click here for a more detailed explanation of the model-based margin of error.
Related
Popular in the Community