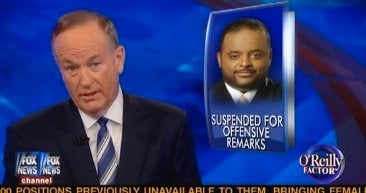 Bill O'Reilly tore into suspended CNN pundit Roland Martin on his Thursday show, criticizing him for disparaging comments he has made about conservative news hosts and organized religion.
CNN suspended Martin indefinitely for a series of tweets he sent on Super Bowl Sunday. Martin tweeted that people should "smack the ish" out of male fans of David Beckham's Super Bowl ad. He also made fun of a Patriots player who arrived wearing pink. Martin's tweets were perceived as advocating violence against members of the LGBT community.
O'Reilly called Martin's suspension "ironic" and thought that "karma may have caught up" with him. O'Reilly said that Martin has branded people, including Glenn Beck, Rush Limbaugh, and O'Reilly, as bigots. He added that Martin called Tea Party supporters "stupid," and organized religion "desperately sexist."
Wayne Besen of gay rights organization Truth Wins Out joined O'Reilly on the air. O'Reilly said that Martin claims his tweets were really about soccer and not about the LGBT community. "He's saying he's mocking soccer players, not gay people," O'Reilly said of Martin.
Besen disagreed with O'Reilly, claiming the tweets were definitely about gay people. After a short back and forth about Martin's intentions, O'Reilly said, "I couldn't care less about Roland Martin. I don't follow him. I dont care what he says. I think he's a moron."
Calling all HuffPost superfans!
Sign up for membership to become a founding member and help shape HuffPost's next chapter