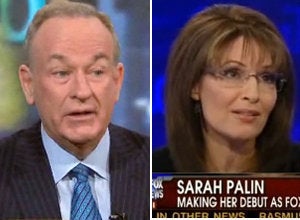 Bill O'Reilly appeared on "Good Morning America" Thursday with George Stephanopoulos, where the two talked about the health care crisis and the landscape for the 2012 presidential election.
Stephanopoulos asked O'Reilly if, like Evan Bayh, he believes there's room for "someone to come up the middle" in 2012.
"It depends how articulate they are and how they're gonna handle all the slime factor," O'Reilly said. "You get into this game now, they're gonna tear you to pieces on both sides. Do you have the stomach for it? You wanna put your family through that? That's what scares them away. The press is so vicious now with a capital 'V.'"
Would O'Reilly be interested in running? He says no.
"I have more power doing what I'm doing than getting involved with the political process," he told Stephanopoulos. "Plus you have to kiss butt to get money."
As for frequent "O'Reilly Factor" guest Sarah Palin, O'Reilly says she absolutely wants to run but has to weigh whether she wants to put her family through the process. And, he added, she needs to study up.
"Sarah Palin needs to go to college," O'Reilly said. "Political college, world affairs college, and she is. She's hired a bunch of advisers and they're giving her a whole bunch of tracks to learn, because it is a sophisticated deal."
WATCH:
Earlier in the interview, O'Reilly acknowledged that health care needs fixing but argued that President Obama's plan is too expensive and thus risky to adequately address the issue.
Related
Popular in the Community