In an attempt to defend himself after numerous women accused him of sexual misconduct, Bill O'Reilly tried to paint the women as liars out for fat settlement checks. It's an argument also employed by President Donald Trump and countless other men accused of misconduct over the years.
But the former Fox News host is the one doing the lying, according to Rachel Witlieb Bernstein, a former Fox producer who filed suit against O'Reilly Monday in the Southern District of New York.
Bernstein settled her original case against O'Reilly back in 2002. The terms of the settlement prohibited either side from talking about the case. But Bernstein says O'Reilly violated those terms in April and throughout the rest of the year, in talking to The New York Times and other outlets about the millions of dollars in settlement payouts he and Fox made to several women over harassment claims.
Not only should O'Reilly have kept his mouth shut, Bernstein says in the lawsuit, the things he said about these women were also lies.
"We want an apology and an acknowledgement that what he said was false."
"We want an apology and an acknowledgement that what he said was false," Bernstein's lawyer, Nancy Erika Smith, told HuffPost. "What he said about her wasn't true."
Smith also represented former Fox host Gretchen Carlson in her groundbreaking 2016 sexual harassment lawsuit against the company's former chairman, Roger Ailes.
Bernstein is suing O'Reilly and Fox News for breach of contract and defamation.
In her lawsuit, Bernstein says O'Reilly did not sexually harass her, though several other women have made that claim about him. According to Bernstein, O'Reilly mistreated her "frequently and in front of numerous witnesses." She left the company "because of severe mistreatment and abuse by Mr. O'Reilly, as he knows," the suit says. The New York Times reported in April that O'Reilly screamed at Bernstein in front of witnesses.
"Bill O'Reilly has never mentioned the plaintiff's name publicly in any context," Fredric S. Newman, O'Reilly's attorney, responded in a statement to HuffPost, adding that "this was absolutely not a case of sexual harassment." Newman said the lawsuit had "no merit" and his client "will respond aggressively in court."
Bernstein's lawsuit comes at a moment of reckoning, as more brave women have come forward with stories of sexual predation and misconduct involving some of the country's most powerful men.
These stories often wind up like Bernstein's, buried in settlement agreements that allow harassers to continue unabated. Too often, the women who come forward are quickly labeled as "nuts and sluts," liars or worse by the men they accuse.
In the O'Reilly case, Emily Steel and Michael Schmidt at The New York Times broke open the story on O'Reilly, reporting in April that he and Fox News had paid $13 million to five women to settle claims of harassment over the years. Eighteen days later, O'Reilly was forced out of the company. He had been one of the network's biggest stars.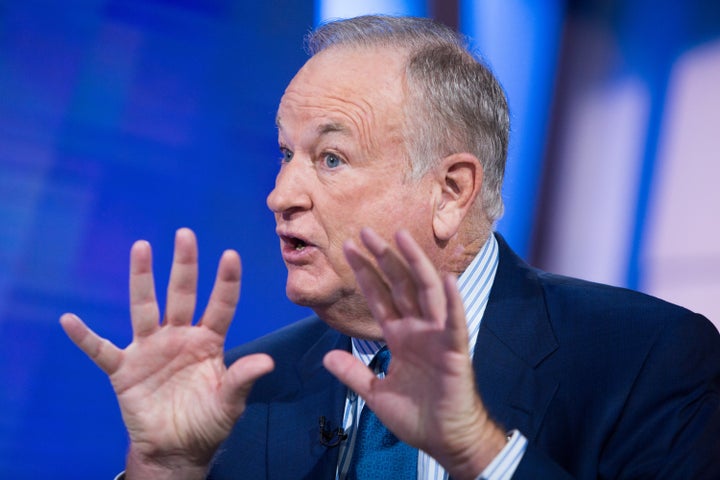 The Times named Bernstein in its story via anecdotes from former and current Fox employees. She emphasized in her lawsuit Monday that she herself never spoke to the Times. None of the women who settled with O'Reilly have spoken publicly about it, according to the Times.
But O'Reilly has. He told the Times that the five women were essentially lying, making up their stories to get fat payouts. "I'm vulnerable to lawsuits from individuals who want me to pay them to avoid negative publicity," he said at the time.
In September, he told the Hollywood Reporter, "Once you get a famous name, and once you're in the political arena, the combination is devastating. If they can get you, they're going to get you."
In another bombshell, the Times reported in October that O'Reilly paid $32 million to settle a case with a Fox News analyst named Lis Wiehl, who accused him of harassment, a nonconsensual sexual relationship and sending her unwanted pornographic material.
At the time, he told the paper, "I never mistreated anyone."
On his podcast, O'Reilly has portrayed himself as a victim, according to Bernstein's suit. He even took the argument into the biblical arena. "You know, am I mad at God? Yeah, I'm mad at him. I wish I had more protection," the lawsuit quotes him as saying on his podcast. "Never give up telling the truth."
Noting that the title of O'Reilly's podcast, "No Spin News," is "hypocritical," the lawsuit says, "Mr. O'Reilly is the liar."
"I never mistreated anyone."
O'Reilly has also claimed no one ever complained about his behavior before. "In my more than 20 years at Fox News Channel, no one has ever filed a complaint about me with the Human Resources Department," he told the Times. And in public statements, on his website and to other media outlets, he also said that no woman had ever raised concerns about his behavior to a Fox hotline available for employees to report anonymous complaints.
Fox has echoed those claims in its public comments.
In her lawsuit, Bernstein says that's not true. "Ms. Bernstein repeatedly complained to Fox Human Resources, Bill Shine, and other Fox executives, about Mr. O'Reilly's mistreatment and both defendant Fox News Network and O'Reilly knew that before making the statements," the suit says, calling O'Reilly a "serial abuser."
It's typically difficult to prove defamation in court, Smith told HuffPost. But this case is different, she said, because O'Reilly is so clearly in breach of the contract he signed with Bernstein.
Smith and her law partner Neil Mullin also want O'Reilly and Fox to release Bernstein and the other women from the nondisclosure agreements.
"It is cowardly to publicly attack these women knowing they have been subjected to contractual provisions requiring absolute silence," Mullin said in a statement.
Trump has also painted the women who've accused him of sexual assault ― there are 16 ― as liars.
This story has been updated.
Popular in the Community