As Fox News host Bill O'Reilly became embroiled in a sexual harassment scandal, the host of CNN's "Reliable Sources" posed a question: "Could this potentially sink Bill O'Reilly's career?"
That was over a dozen years ago.
In October 2004, Howard Kurtz, who hosted "Reliable Sources" at the time, was discussing an explosive lawsuit against O'Reilly filed by former Fox News producer Andrea Mackris. The allegations in Mackris' lawsuit ― among them, that O'Reilly urged her to "use your vibrator to blow off steam" and that he'd at one point mistakenly called a loofah a "falafel" ― made for easy tabloid headlines. They also raised serious questions about O'Reilly's future in the news business.
But O'Reilly settled with Mackris just days before the 2004 presidential election, and the assumption among many media watchers was that he'd survive. Katie Couric, then co-host of the "Today" show, asked legal analyst Dan Abrams if he expected "any ramifications professionally" for O'Reilly in light of the settlement. "It doesn't look that way," Abrams replied.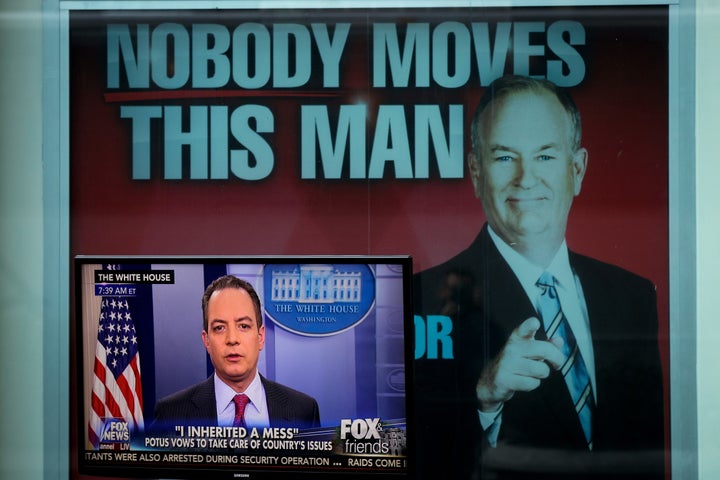 Indeed, O'Reilly remained the top-rated cable news host, and his 8 p.m. show reportedly generates more than $100 million annually. For a long time, it seemed that O'Reilly, who has consistently beat a string of rival hosts on CNN and MSNBC, would be at Fox News as long as he cared to.
But a New York Times investigation splashed across Sunday's front page revealed that O'Reilly and 21st Century Fox had paid a combined $13 million in settlements to five women who'd accused O'Reilly of harassment. And the resulting sexual harassment scandal looks less likely to quickly recede from the headlines.
O'Reilly faces a growing advertiser boycott this time around, and the settlements and continued allegations are part of a broader, ongoing story. The O'Reilly mess is inextricably linked to continued revelations about the toxic culture created and reinforced by former Fox News Chairman Roger Ailes and the response by parent company 21st Century Fox.
Since the Times article appeared, yet another Fox News personality has filed a sexual harassment suit against Ailes, who resigned in July following allegations from dozens of women; the same woman also sued Fox News and network Co-president Bill Shine for allegedly retaliating against her; a sixth O'Reilly accuser spoke out against him at a press conference amid calls for state and local officials to investigate the network; and a black Fox News employee sued over racial discrimination, becoming the third in two weeks to do so.
This flurry of negative stories is also playing out against the backdrop of a federal investigation into how 21st Century Fox disclosed settlements to various women alleging sexual harassment. The Times reported that settlements to two of O'Reilly's accusers took place after Ailes' ouster ― and the company still extended the host's contract.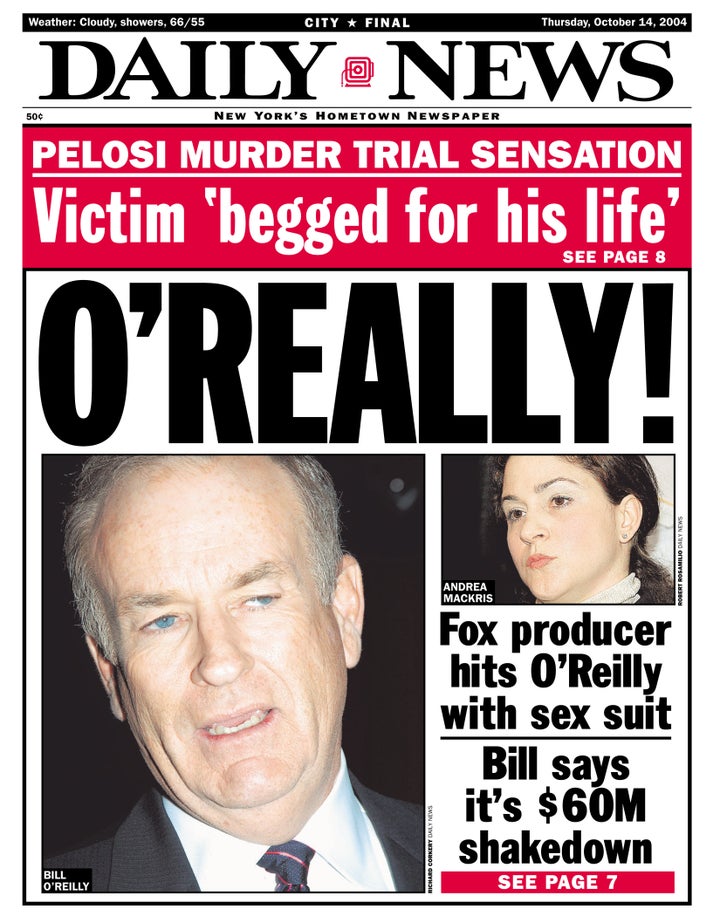 Advertiser boycotts are not unknown at Fox News. Former host Glenn Beck, who called then-President Barack Obama a "racist" with a "deep-seated hatred for white people or the white culture," began losing advertisers following a 2009 campaign led by the racial justice organization Color of Change.
Yet Beck still hung on at Fox News for two years, even as hundreds of advertisers fled and spots once occupied by top-tier companies seemed to be increasingly taken up by gold-hawking businesses.
The O'Reilly boycott seems to have accelerated more quickly, both in terms of advertisers taking the initiative ― some announcing their decisions on social media ― and in terms of sustained coverage online, which wasn't as much of a factor in 2009, much less 2004. Journalists have been calling up companies and tweeting their responses in real time, and news outlets are constantly updating their articles about where various advertisers stand. Rival network CNN has given the O'Reilly story considerable coverage online and on the air, and ABC, CBS, and NBC all covered the story on Tuesday's evening newscasts.
At the time of the Beck boycott, "we weren't in the same type of social media climate that we are in now," Rashad Robinson, the executive director of Color of Change, told The Huffington Post. "The speed and pace of people's interest is different because of the participation age."
These days, Robinson said, "companies are hearing from their consumers directly through Twitter," along with phone calls and questions from employees.
O'Reilly, he said, "is both the representation and the symbol of everything that is wrong with Fox News." And the questions for advertisers, he suggests, are simple: "Do they stand behind Bill O'Reilly? Do they give money because they believe his voice is necessary? Or do they not?"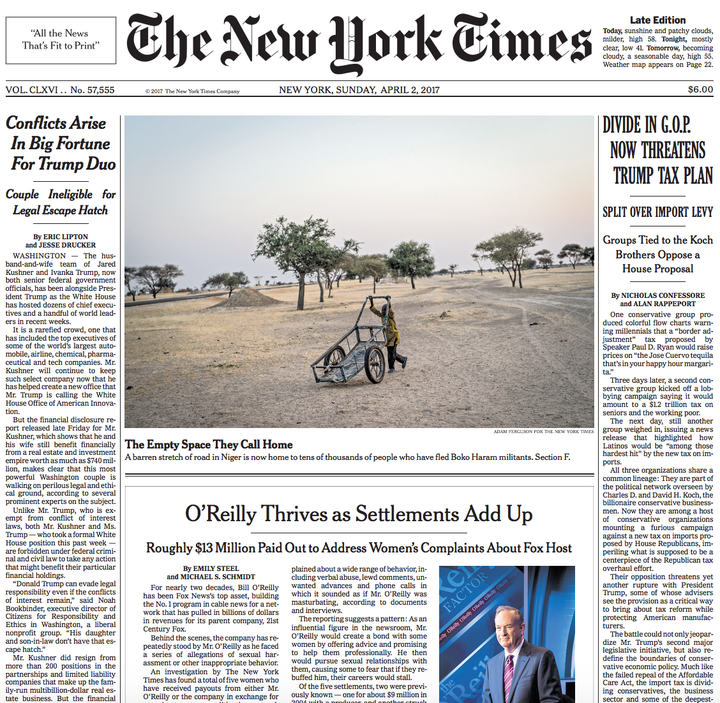 Thus far, Rupert Murdoch, executive chairman of 21st Century Fox, doesn't appear inclined to pull the plug. For one thing, ads already purchased by companies can be shifted from O'Reilly's show to other time slots on the network. And as news analyst Andrew Tyndall pointed out Wednesday, Fox News generates more revenue from cable and satellite companies paying to carry the channel ― and O'Reilly's presence is still a big draw.
But the negative publicity generated by the O'Reilly scandal could become a larger drag on a network that, despite recently posting record-setting ratings, continues to be dogged by controversies. And beyond advertisers, politicians and journalists could become wary of flocking to the "The O'Reilly Factor." Many of O'Reilly's guests each night are Fox News reporters or paid contributors who can be expected to remain loyal. It remains to be seen whether prominent journalists like The Washington Post's Bob Woodward, who appeared twice last month, will still come.
Rep. Peter King (R-N.Y.) was among the politicians who appeared on Tuesday night's show, in a sign that some elected officials aren't ready to jump ship. O'Reilly also got an endorsement Wednesday from the highest-ranking official in the land: President Donald Trump.
Trump, who was famously caught on tape boasting about groping women, and who has faced sexual assault and harassment allegations from numerous women over the years, told the Times on Wednesday that O'Reilly "is a good person."
"I think he shouldn't have settled; personally I think he shouldn't have settled," Trump said. "Because you should have taken it all the way. I don't think Bill did anything wrong."
But the president's endorsement may not be enough to convince non-O'Reilly fans that he's innocent. On July 14, then-candidate Trump dismissed claims made by women against Ailes as "totally unfounded." Ailes was seemingly untouchable at the time, having built Fox News over two decades into a media and political powerhouse. He resigned a week later.
Related
Popular in the Community