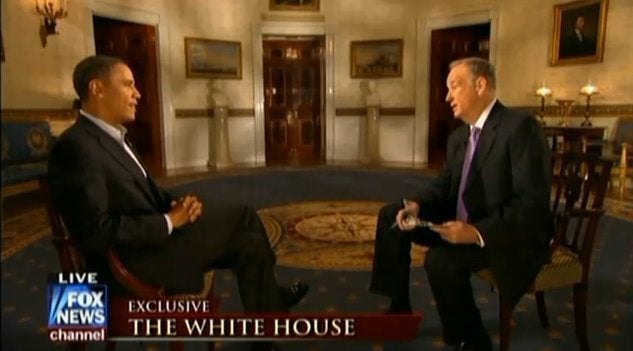 In his Super Bowl sit-down with President Obama, Bill O'Reilly asked the president an unexpected question: "what can I do better?"
The question came in the second part of O'Reilly's interview, which aired on the Monday following the Super Bowl. O'Reilly noted that there had been "a little bit of a rocky history" between Obama and Fox News. He also said that extreme rhetoric would continue to thrive, because "there's a lot of money to be made if you can polarize people."
O'Reilly then asked, "What can I do better?" He stressed that he was asking this "for the country, not for you. I'm not in business to help you, Mr. President, with all due respect. I'm here to look out for the folks. But what can I do, what can FNC do better?"
Obama said that he thought all the news media needed to "give people the facts" in a more unvarnished way, and to give less attention to sensational or conflict-driven stories. O'Reilly then asked if Obama thought Fox News was fair to him.
"I would say that the news guys try to do a good job," he said. "Fox News has a point of view. There's nothing wrong with that."
"Do you respect it?" O'Reilly asked.
"Absolutely," Obama said.
WATCH:
Calling all HuffPost superfans!
Sign up for membership to become a founding member and help shape HuffPost's next chapter