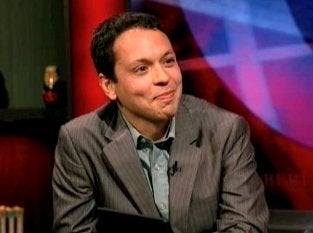 Score one for the Netroots! Newsweek has just announced that Markos Moulitsas, namesake and founder of the Daily Kos website, will be a contributor for the mag's 2008 election coverage.
Here's the statement from Newsweek editor Jon Meacham, which seems to anticipate some sort of reaction from a disgruntled element:
"We have always sought to represent a diversity of views in Newsweek, and we think Markos will be a great part of that tradition. He will give our readers in print and online a unique perspective. As always, our job is to create the most energetic and illuminating magazine possible, and Markos will help us do that as the campaign unfolds."
Well, it's not that unique a perspective, considering that Daily Kos is one of the most popular blogs around (though it's currently at #12 on Technorati — which makes it one of the top-rated political blogs, though (cough) behind the Huffington Post at #5). Once again this demonstrates that the inmates are taking over the asylum — bloggers are going mainstream, baby! I will note though that Kos' contributions are being framed as just that, as opposed to, say, reporting. Either way, Bill O'Reilly's gonna bust a gut. Can you imagine if NBC had hired him? Yikes.
Update: Yesterday when I originally posted I listed Daily Kos as being at #30 on Technorati's list of popular blogs — true, but only based on how many times it's been "Favorited." When I clicked on the "Popular Blogs" link that's what came up, and I didn't realize that Technorati had updated and included two tabs with results broken down according to two separate criteria (Most Linked To and Most Favorited). On the latter list, the Huffington Post is at #18. However, the more commonly-applied metric of popularity is the "Most Linked To" metric, and that was in fact what I meant to apply. ETP regrets the mix-up.
Related
Popular in the Community