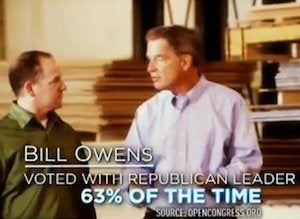 Rep. Bill Owens of New York might have a 'D" beside his name, but he's out with a new ad that attempts to distance himself from Democratic Speaker of the House Nancy Pelosi and instead endear himself with Minority Leader John Boehner.
"Wall Street people sure know how to lie with numbers, Bill Owens didn't vote with Nancy Pelosi 93% of the time," the ad says, refuting a prior attack ad by his GOP opponent Matt Doheny. "He voted with the Republican leader 63% of the time."
NRCC spokesman Ken Spain has since responded to the ad, telling Politico's Ben Smith that "[t]he numbers speak for themselves, since coming to Congress, Bill Owens has been a nothing more than a reliable vote sitting in Nancy Pelosi's back pocket."
The Washington Post breaks down the actual voting records, however, and shows that Owens might be correct in his statements, but that there is a large degree of spin going on in the ad:
The voting statistics come from the non-profit, independent website OpenCongress.org. The ad refers to two different ways that the site calculates voting percentages for members of Congress. It is true that, according to OpenCongress.org, Owens votes with his party 93 percent of the time. It is also true that Owens and House Minority Leader John Boehner have a 63 percent voting similarity. But when you match Owens's and Pelosi's voting record, they only share an 83 percent similarity. So Owen's and Doheny are both spinning the numbers -- Owens in choosing not to mention that he votes with Pelosi 83 percent of the time and Doheny in claiming that the 93 percent voting similarity is with Pelosi as opposed to the Democratic party.
Support HuffPost
The Stakes Have Never Been Higher
Popular in the Community