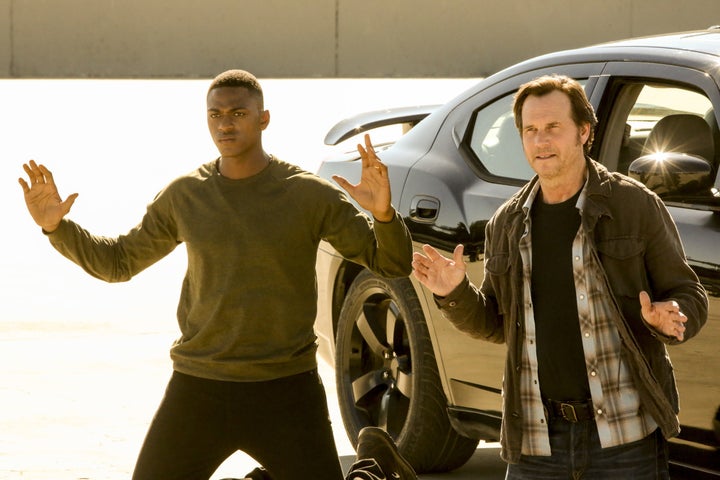 You can walk down the street of almost any American town and see a thousand people who look like Bill Paxton.
For someone aiming to be an actor, a field where a distinctive look matters, that may not sound promising. Paxton turned it into an asset, parlaying a familiar exterior into dozens of movie and television characters who ranged from the father of Texas to a calculating polygamist to a loud cynical cop.
As far as the world knew, Paxton was still right in the middle of playing that cop – Frank Roarke on the new CBS series Training Day – when it was announced that he had died Saturday, age 61, after "complications from surgery."
His death stunned the movie and TV communities, where he had been a popular presence for more than 30 years. Colleagues from Tom Hanks, Rob Lowe, Jamie Lee Curtis and Elijah Wood to Aaron Paul and Charlize Theron tweeted reverent goodbyes while director James Cameron, who cast Paxton in films like Titanic, remembered their taking a submarine down to the ship's actual wreckage.

On television Paxton was best known for his six years as Bill Henrickson on HBO's Big Love, a drama about an extended polygamist family in which Bill had three "sister wives."
Paxton played Henrickson in many ways as your average American husband and father, partly because Bill often saw himself that way.
The polygamy part, however, along with the number of soapish dramas inevitable in any large family, forced him into a continuous juggling act.
He used his everyman face to great advantage in that role, never letting adversaries or the outside world see any of the fault lines in his life.
He needed a different kind of artful dodging as Randolph McCoy, patriarch of the McCoy clan in the History miniseries Hatfields & McCoys. He received his only Emmy nomination for that role, following three Golden Globe nominations for his work in Big Love.
One of his most straightforward characters, he said in a 2015 interview, was Sam Houston in the History series Texas Rising.
"Houston was bigger than life," said Paxton, himself a native of Texas. "He should be more of a central figure in history than he is. It's fun to play a man like that."
He was particularly happy to work on a show with dramatic roots in classic Westerns, he said, "because Westerns tell so much of the American story. Growing up, we all watched John Wayne. We still look to characters like we saw in High Noon or Shane."
Heroic as Sam Houston often was, Paxton's Frank Roarke on the surface sat near the other end of the scale.
But his Roarke is more elusive than that. He's a cop who long ago stopped following the rules, and got away with it because his unorthodox methods landed some big fish.
In the 2001 Training Day movie, that character was past redemption. As he's written and Paxton plays him in the TV series, there's a subtle shift suggesting Roarke might still harbor vestiges of faith under a hard-boiled exterior.
It's a contrast that, again, Paxton was well-suited to play, since he had so often used his neutral appearance to keep viewers uncertain whether he'd be good or bad, normal or nuts, serious or sarcastic.
He could play them all. He could sneak up on us. He proved that, sometimes, the guy next door could end up commanding the room.
Calling all HuffPost superfans!
Sign up for membership to become a founding member and help shape HuffPost's next chapter
BEFORE YOU GO