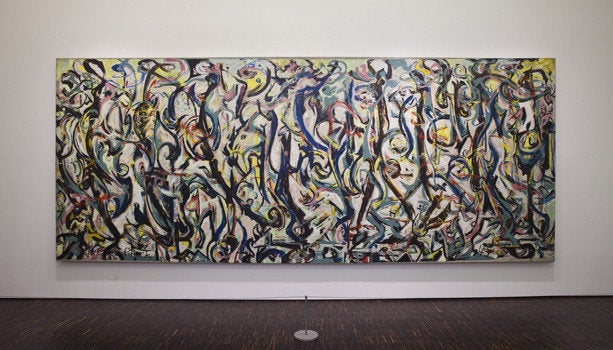 A bill was introduced Wednesday in the Iowa House that would require the University of Iowa to sell Jackson Pollock's Mural, in order to create funding for scholarships.
The bill was proposed by State Rep. Scott Raecker (R), who told the Associated Press,
If the core function of the university is to educate students, this could provide a $5 million a year endowment. It could let 750 to 1,000 students get a full-ride scholarship every year.
The 8' by 20' foot abstract expressionist painting is the centerpiece of the University of Iowa Museum of Art's 12,000 piece collection. In 2008, the painting was valued at$140 million.
The director of the UIMA, Sean O'Harrow, claimed the proposal was
one of the most ludicrous ideas I've ever heard. That would be like selling your grandmother.
This is not the first time (nor will it likely be the last) that the sale of the Pollock has been discussed. In 2008, Regent Michael Gartner suggested selling Mural to offset costs of flood damage, which destroyed most of the Arts Campus. Gartner's proposal caused outrage in the university and arts communities and ultimately the university decided against it.
Other universities and museums have recently sold parts of their collections to offset budget woes, including Fisk University, Thomas Jefferson University and the Rose Art Museum.
UI art history professors have spoken out against the proposed bill. Prof. Craig Adcock told the Daily Iowan that selling the painting would be a "disaster," and noted the value of viewing art in person to art education.
Prof. Christopher Roy said,
It would be a disgrace to a civilized place such as Iowa. Whoever did such a thing would go down in history as one of the most disgraceful people in the history of the state. I can't believe anyone would be stupid enough to bring it up.
Today the Association of Art Museum Directors and the American Association of Museums have released a joint statement which declared such a sale would be a
permanent and irredeemable loss for the University and the people of the state of Iowa.
Should the bill pass the Republican-led House, Democratic Senate leaders have stated they would oppose the bill. State Sen. Bob Dvorsky (D) told the Quad City Times,
There is a need for more scholarships, but this seems to be a cynical poke in the eye for UI.
Although it appears unlikely to pass, the proposed bill demonstrates that more government officials need to be taught the value of art.