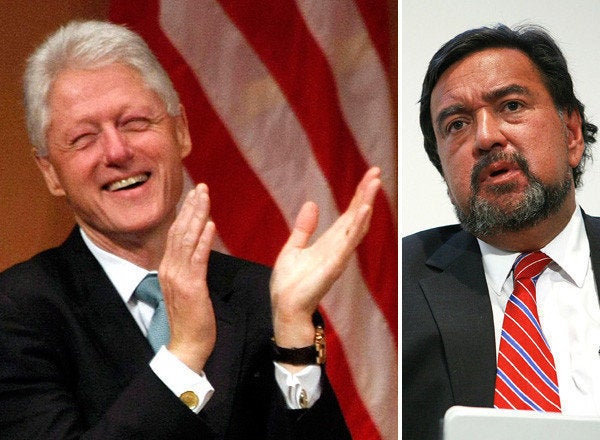 New Mexico Governor and former Democratic presidential candidate Bill Richardson was reportedly turned away at the door of a Bill Clinton fundraiser in New Mexico over the weekend, providing a salute to rumors that the former first family is still holding a grudge over Richardson's choice to endorse Barack Obama over Hillary Clinton for president in 2008.
The New York Post's Cindy Adams reports:
So William Jefferson was in New Mexico stumping. Richardson shows up. The event didn't invite him in. Per a very inside insider, Clinton aides, well aware of President Clinton's feelings, on their own turned Richardson away. The Gov was politely told: "Sorry, governor, this is a ticketed event."

When they later related this to Clinton, I am informed he "laughed delightedly."
In the Spring of 2008, Richardson threw his weight behind then-candidate Obama. Democratic strategist James Carville later claimed that Richardson had misled Clinton into believing that he would support her.
Richardson's choice was a particularly hard pill to swallow for Bill Clinton, who as president had appointed the New Mexico governor to posts as both Ambassador to the United Nations and Secretary of Energy.
In April of 2008, Clinton reportedly embarked on an irate tirade against Richardson's perceived deception.
Reports in 2008 and even 2009 claimed that Clinton wasn't willing to forgive Richardson's transgressions, and wouldn't even speak to the governor.
Richardson held a fundraiser during the heat of the standoff in the summer of 2008 with the purpose of drawing cash to retire Hillary Clinton's campaign debt, but it apparently didn't mend the frayed friendship.
Calling all HuffPost superfans!
Sign up for membership to become a founding member and help shape HuffPost's next chapter