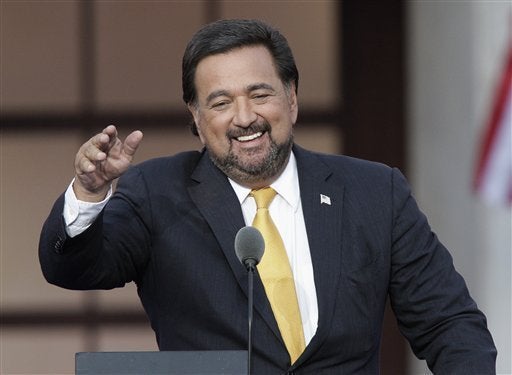 Several news organizations are reporting that the Richardson pick will be announced at a press conference tomorrow.
Update 11/23: AP: A Democratic official says President-elect Barack Obama will name New Mexico Gov. Bill Richardson as commerce secretary.
The official says Obama plans to announce Richardson's selection after Thanksgiving. The official spoke on condition of anonymity because the official was not authorized to speak publicly about the negotiations.
Richardson was energy secretary and U.N. ambassador under President Bill Clinton. Richardson would be the most visible Hispanic named to Obama's Cabinet.
Richardson dropped out of the Democratic presidential contest in January and endorsed Obama.
Update 11/21: More news is coming out about Obama's cabinet. With Penny Pritzker withdrawing herself for consideration, Chris Cillizza of The Washington Post reports that New Mexico Governor Bill Richardson is now in contention for Commerce Secretary:
New Mexico Gov. Bill Richardson has emerged as a "serious contender" to head the Commerce Department under President-elect Barack Obama, according to a Democratic official close to the proceedings.

Richardson, who was elected governor of the Land of Enchantment in 2002 and reelected with 69 percent of the vote in 2006, has made no secret of his interest in returning to Washington to take a place in the Obama Administration. A longshot contender for the Democratic presidential nomination, Richardson endorsed Obama in his primary battle with Clinton (to the dismay of many Clinton supporters), and, if nominated for Commerce, would help round out Obama's "Team of Rivals."
Richardson's own state newspaper The Albuquerque Journal is also questioning how their governor will fit in to Obama's forming cabinet.
So, I'm asking everyone I talk to about Richardson's chances, and for the past couple of days, people (including some whose opinion I really value) have been telling me he's a potential Commerce Secretary. We all know he really wants Secretary of State, but conventional wisdom says unless Hillary decides she doesn't want to be America's top diplomat, Richardson should expect something else. And maybe he should expect something else, even if Hillary doesn't take it.