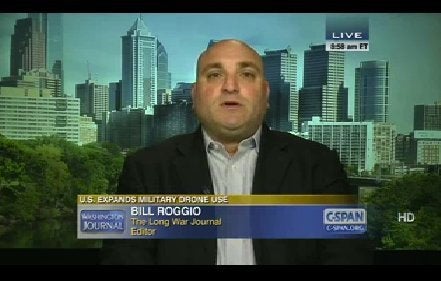 Roggio's name doesn't appear in those news reports, which instead attribute numbers of drone strikes to The Long War Journal, a site he launched in 2007 to cover the United States' fight against al Qaeda and militant groups worldwide.
Roggio, 43, serves as The Long War Journal's managing editor and has been tracking drone strikes since 2006 by searching U.S. and international news reports and relying on his own sources in the government and military. In an interview with The Huffington Post, Roggio described accurately tracking drone strikes as "extremely difficult" and therefore recommended also reading the New America Foundation's and TBIJ's reports to try and get the most rounded picture of the strikes -- and their aftermath -- in Pakistan and Yemen. "We're trying to get inside the black box and figure out what's happening," he said.
Roggio works out of his New Jersey home and employs a small staff. He didn't start out with ambitions to become an oft-cited source for journalists covering drones -- or even to become a journalist at all. A former army signalman and infantryman, Roggio started blogging about the Iraq War in 2004 through a personal site (billroggio.com), eventually developing a following among so-called "milblogs" and catching the attention of the Marines serving in Anbar province.
In 2005, Roggio took a leave of absence from his IT job to embed with the Marines, and within two years his one-time hobby morphed into a full-time career. These days, The Long War Journal is funded by donations, while Roggio also serves as a senior fellow at the Foundation for the Defense of Democracies.
The FDD describes itself as a "non-partisan policy institute," but notably includes prominent conservatives such as Weekly Standard editor Bill Kristol and columnist Charles Krauthammer among its advisers. Roggio has also contributed to the Weekly Standard and, as Paul McLeary wrote in 2008 Columbia Journalism Review profile, Roggio did himself "a disservice by aligning with bloggers who are more about pushing a conservative agenda" during his early blogging days.
Roggio, however, rejects political labels. "You're either a liberal or a conservative or left-wing or right-wing and there's little room for people like me who are trying to understand a complicated topic and make sense of it," he said.
"Good work is good work," Roggio added. "I don't care where it's published."
To underscore his point, Roggio praised reporting on Al Jazeera English -- a network maligned by some conservatives -- and mentioned being quoted in The New York Times. Indeed, he told the Times in 2011 that the CIA's claim of the number of civilian casualties from drones strikes was "absurd."
Roggio said that he's not the "world's biggest supporter of the drone program," as some might expect. While clearly not against the technology, he argues that the "tactic" of using drones has been falsely "touted as a strategy."
"It should be a tool in a toolbox, but it's sold as being the solution to all of our problems," he said. For instance, Roggio argues that the spread of radical ideology won't be addressed through drone strikes.
Indeed, a common argument against drone strikes is that they'll only produce more militants, spurred on with each report of civilian casualties.
Its coverage of civilian casualties is where The Long War Journal has received some criticism. In "Living Under Drones," a major study produced by Stanford University and New York University, the authors questioned whether The Long War Journal underestimated civilian deaths by "labeling all drone victims as 'Taliban/Al Qaeda' unless they are specifically identified as civilians" and relying on "demonstrably untrustworthy government reports corroborated by comments from anonymous U.S. intelligence sources."
The Stanford/NYU researchers found TBIJ's database to be "much more dynamic." Chris Woods, who oversees TBIJ's drone research, told The Huffington Post last month that he and his team "never see a strike as being closed" and continue to add new information, including casualties, as it's confirmed.
Despite some criticism of The Long War Journal, the study's authors praised all three organizations as being "invaluable in public debates about drone and targeted killing policies."
Roggio acknowledged that his focus isn't to track civilians inadvertently killed in drone strikes, but to follow which individuals and militant groups are being targeted and where. The uncertainty in tallying civilian deaths, he noted, highlights the overall "difficulty of understanding in a covert war."
"No one's ever going to get it down to the last decimal point," he said.
Related
Popular in the Community