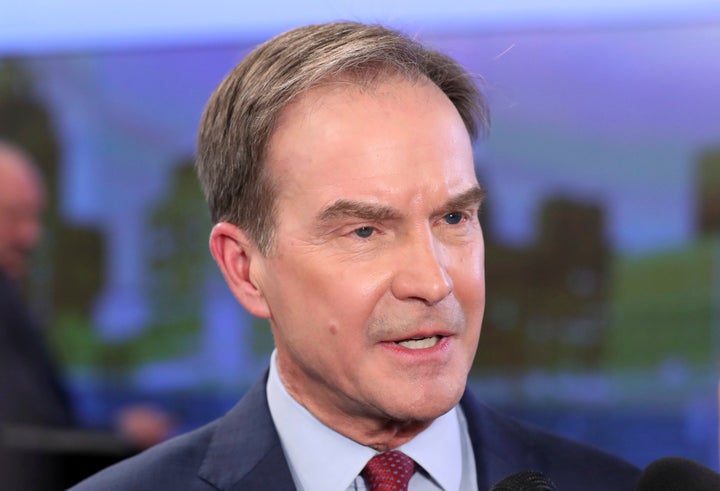 A website boosting Michigan Republicans appears to have published an embarrassing video of gubernatorial candidate Bill Schuette on a backdated page, which the candidate then cited as proof the footage had been public for "some time."
The video in question shows Schuette, the Republican in a hotly contested race for the governorship of Michigan, making sexually suggestive remarks to an unseen woman on a news crew in 1989. It caused a stir earlier this month after American Bridge, a progressive super PAC, posted the clip on its YouTube channel.
In the clip, the woman asks Schuette to move closer to a lamp. "I will do anything you want," Schuette, then a congressman, replies. "Some things I may not let you roll the camera on."
Schuette, who currently serves as Michigan's attorney general, expressed chagrin, but claimed the video "has been in the public domain for some time." As proof, his campaign sent HuffPost and other news organizations a link to a July 6, 2018, post on Republican-friendly blog MIconservativenews.com that contained the video. That post, titled "Video Of Bill Shcuete Being Silly" — Schuette was misspelled — has since been deleted.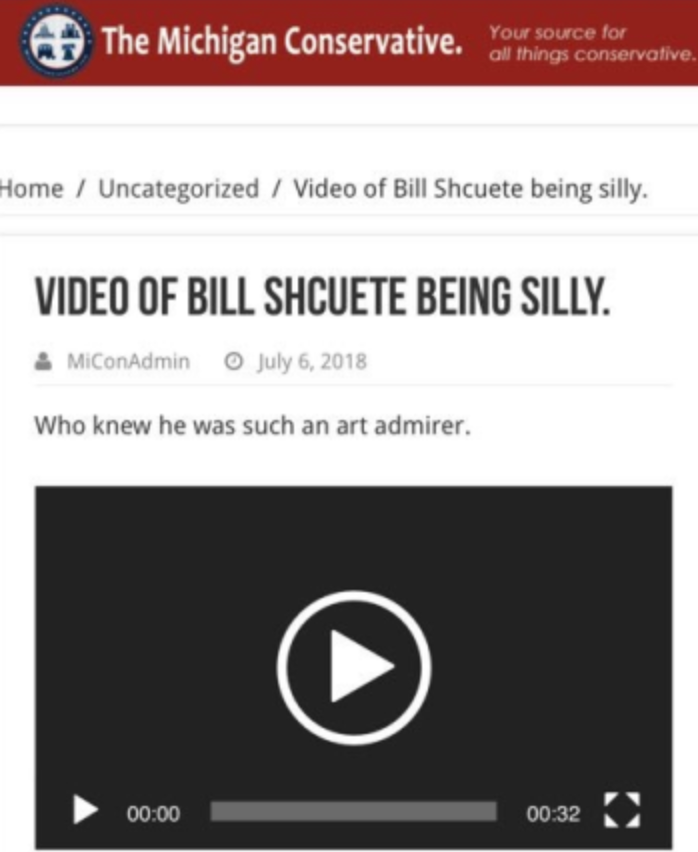 But the video's original source told HuffPost that the footage could not have been made public in July — because no one but the source had access to the video before the week of Aug. 31, when the source began to share the clip with Democrat-affiliated groups.
In reality, the MIconservativenews.com post appears to have been created sometime after that. Although the post was dated July 6, it does not appear in an Aug. 23 version of MIconservativenews.com saved by the Wayback Machine, which snapshots and archives old versions of websites. 
HuffPost obtained the clip from American Bridge and sent it to Schuette's campaign with a request for comment in early October. HuffPost reviewed a full-length version of the video containing the clip and determined it had not been taken out of context, but was unable to identify the woman Schuette was speaking to and so decided against publication.
Schuette's campaign did not respond to questions about the discrepancies. The Facebook page for MIconservativenews.com listed the owner of the site as Randall Thompson, a self-employed political consultant. HuffPost's attempts to reach Thompson were unsuccessful.
The video itself was reportedly filmed in 1989 when Schuette was an incoming congressman. Schuette expressed "regret" and "embarrassment" about the footage earlier this month: "That apparently was my poor attempt to be humorous 30 years ago" his statement read.
Schuette's Democratic opponent, Gretchen Whitmer, denounced the video but spent more energy dwelling on his conservative record on reproductive rights.
"I imagine everyone who's watched it had the same uncomfortable look on our faces. But even more troubling is the fact that Schuette has spent the past 33 years in office attacking the rights of women and working to take away our access to contraception and health care."
Calling all HuffPost superfans!
Sign up for membership to become a founding member and help shape HuffPost's next chapter