Darla Shine, the wife of newly minted White House Deputy Chief of Staff Bill Shine, frequently tweeted against women who accused Fox News executives/talent of sexual harassment and often promoted debunked conspiracy theories about vaccines on her Twitter feed.
The White House did not immediately respond to an email asking if Bill Shine, who last served as co-president of the Fox News channel, agreed with his wife's tweets.
Shine, long rumored to be a potential candidate for a White House appointment, will serve as deputy chief of staff in charge of communications, but inhabits a much more powerful position than the typical communications director due to his relationship with President Donald Trump and Fox News host Sean Hannity, who is one of Trump's most influential informal advisers.
Rupert Murdoch, who controls Fox News' parent company, 21st Century Fox, pushed Bill Shine out in May 2017 after months of negative press about the network, particularly following reports that multiple women had accused both former Fox News Chairman Roger Ailes and host Bill O'Reilly of sexual misconduct. According to two sources, Shine had privately advocated for keeping O'Reilly on the network. Shine has always denied that he knew about Ailes' misconduct or facilitated it in any way, but sources who have spoken to HuffPost over the past year dispute this. A spokesperson for Murdoch did not immediately respond to a request for comment.
Darla Shine, according to two sources familiar with her thinking, was livid with Murdoch for ousting her husband, feeling it unfairly impugned his reputation and led the public to believe he had been fired for sexual misconduct. While there are no publicly known accusations of sexual misconduct against Shine himself, he was named in several lawsuits as someone who helped to cover up accusations and reach multiple financial settlements with accusers.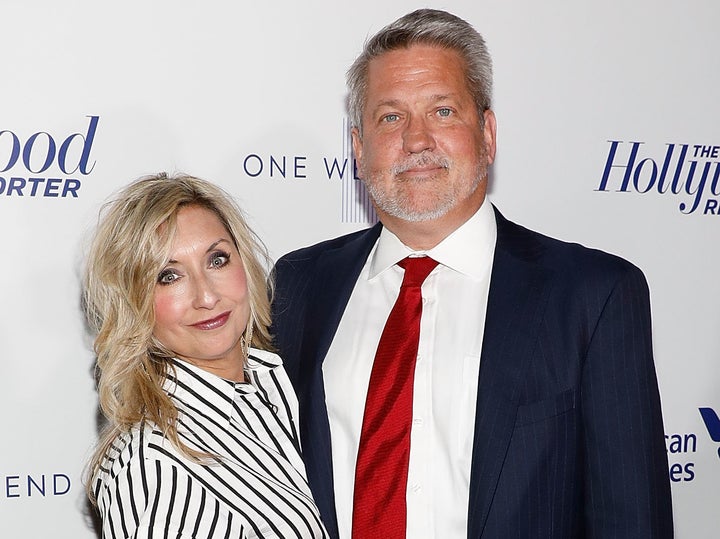 Darla Shine is a former TV news producer and podcaster. In 2005, she released a book through HarperCollins (whose parent company is controlled by Murdoch) titled Happy Housewives: I Was a Whining, Miserable, Desperate Housewife―But I Finally Snapped Out of It...You Can, Too! Several sources at Fox News told HuffPost that they felt pressured to promote her book, though this was during the Ailes era, and Fox News is now run by a completely different management team.
In late June, Vanity Fair reported that Darla Shine was concerned that her husband would open up their family to scrutiny by taking a position at the White House. Multiple news organizations confirmed eight days ago that Bill Shine was joining the Trump administration, but Darla Shine's Twitter account wasn't deleted until Thursday. Her Twitter feed has been archived by the Internet Archive's Wayback Machine several times in the last six years.
In a tweet that HuffPost reviewed but did not screenshot before she deleted her account, Shine wondered how producers were going to make a film about Ailes with actress Charlize Theron playing journalist Megyn Kelly.
In her book, Kelly accuses Ailes of making frequent comments involving sexual innuendo, intimidating her into silence by mentioning how powerful he was and trying to forcibly kiss her. Shine insinuated in her tweet that Kelly's accusations against Ailes weren't credible and that his harassment amounted to an "awkward hug."
In May 2018, Shine tweeted a screenshot, not visible in the Internet Archive, that read, "What a joke this is. Bill Shine built #FOXNEWS everyone currently there knows he was never accused of sexual harassment but too afraid to speak up. So glad my husband isn't a liar. Karma gets everyone in the end."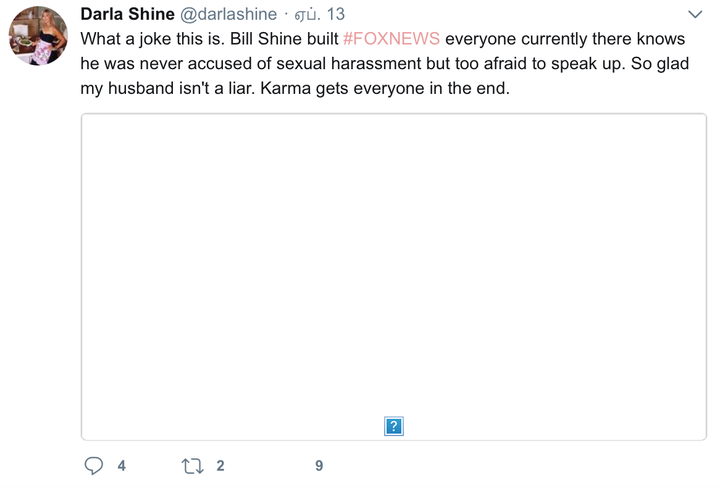 In June 2018, Shine retweeted an attack on Gretchen Carlson, who sued Ailes in 2016 for sexual harassment and retaliation. Carlson's lawsuit led to a settlement with Fox News and Ailes was pushed out of the company. The tweet read, "I guess if you ignore the FACT that Gretchen would still be at FNC [Fox News Channel] if they hadn't fired her for abysmal show ratings & how she kept kissing up to BILL & ROGER till the end!"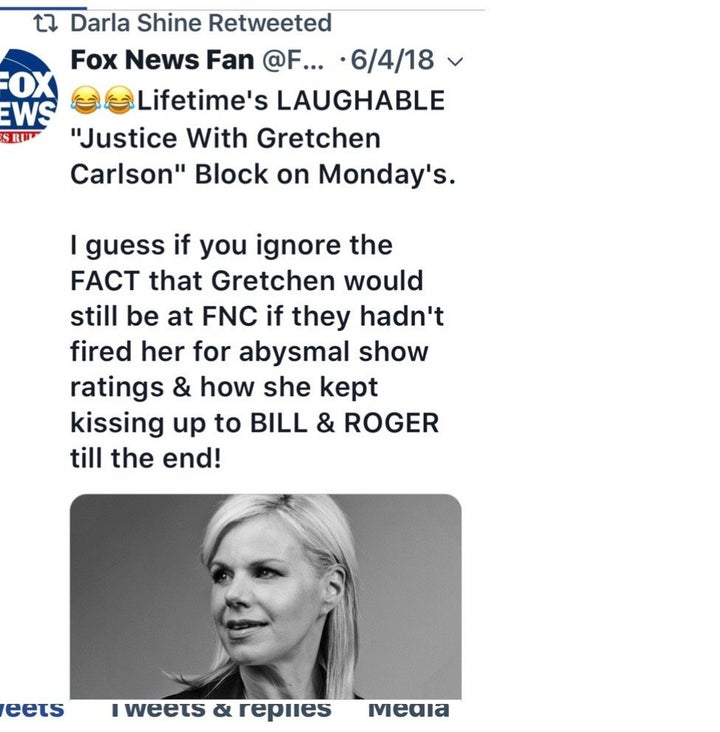 In November 2016, Shine tweeted an article from a blog that frequently promotes conspiracy theories and tagged Trump in it. The tweet read: "Putin says Western Civilization being destroyed by over vaccinating @realDonaldTrump #toomanyvaccines."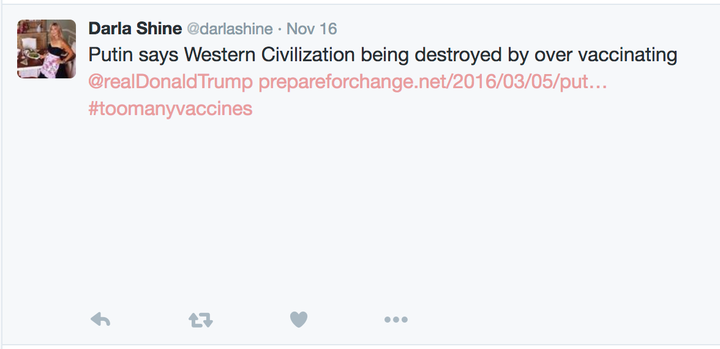 Shine also frequently tied the vaccination of children to autism, once tweeting: "Biggest national security threat is autism! @realDonaldTrump How can we run a country when half of all boys will be autistic by 2050?"
Shine's Facebook page also contains controversial posts. In August 2015, she posted an article about the television network Bravo adding a transgender woman to the cast of the reality show "The Real Housewives of Atlanta."
In a comment on her own post, Shine wrote, "It seems to be more in style to be transgender that not [sic]. Manmade vagina is still not as good as the real thing!"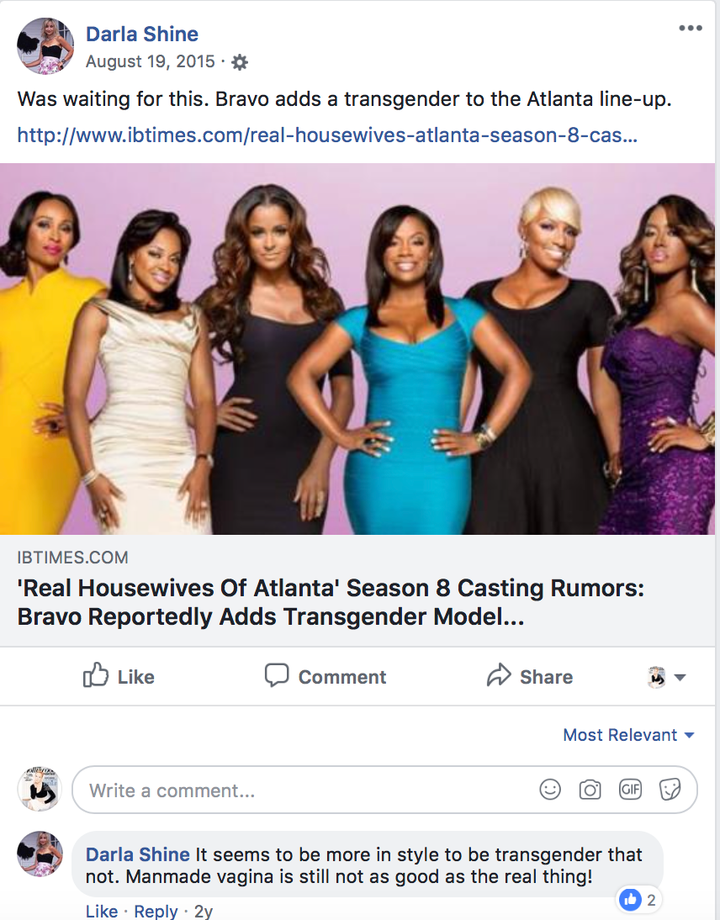 Follow Yashar — or send him a tip — on Twitter: @yashar.
Popular in the Community