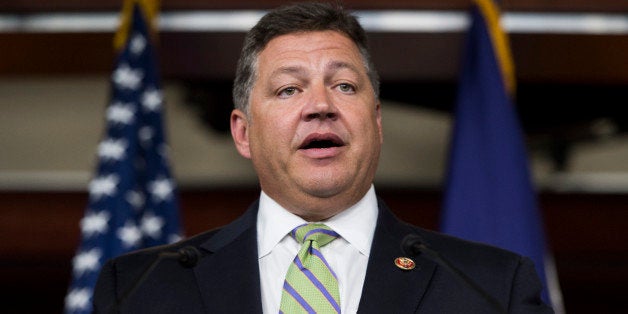 WASHINGTON -- A tea party candidate's primary challenge to the chairman of the House Transportation and Infrastructure Committee may have reverberations far beyond Pennsylvania's 9th Congressional District, and even screw up the country's transportation system in the coming years.
Transportation groups representing the construction industry, state officials and other infrastructure advocates tell The Huffington Post they worry that Art Halvorson, a retired Coast Guard official who calls himself the "Ted Cruz of central Pennsylvania" after an article suggested the moniker, could push Rep. Bill Shuster (R-Pa.) to promote conservative transportation priorities this year in order to appeal to tea party voters back in the district.
Since taking over as chairman of the Transportation Committee last year, Shuster has sought to convince tea party members of the House to embrace the federal government's role in infrastructure spending. But these lawmakers continue to press for limiting Congress' involvement in large-scale infrastructure projects, much to the displeasure of transportation groups representing the construction industry, state officials and other infrastructure advocates.
If elected, Halvorson said, he would join the tea party's efforts in the House and give as much authority over roads and bridges to state and local governments as possible. This year, Shuster is managing the reauthorization of a 2012 highway law that would expand the federal government's role in certain projects. That law expires in September.

"You don't know how primaries can turn out nowadays," added a transportation official with close ties to Shuster's committee, who requested anonymity because of his involvement with the reauthorization. "Republicans seem to just care about not being ousted in their primaries. The chairman has good people on the committee, but his congressional functions might take a backseat if polls keep changing."
If the tea party succeeds at reducing the federal government's role in transportation affairs, experts have noted that would likely mean less money from Washington for key infrastructure projects, such as repairing the nation's aging bridges. The federal government is currently a major source of money for transportation efforts across the country.
Federal agencies that oversee traffic at seaports, airports and railways warn that with less funding, they would have to cut personnel, slowing the distribution of goods nationwide and debilitating commerce. And there's the potential for delays of critical investigations into major accidents. Meanwhile, the private sector and its money would play a greater role in setting priorities for the nation's roads and bridges.
Nicholas Pyeatt, an assistant professor of political science at Penn State University, Altoona, praised Halvorson for putting up a "spirited challenge," but said he doesn't think it'll be enough to topple an incumbent who has more money and better name recognition.

"Shuster will likely take this primary election very seriously, as there have been a number of successful primary challenges from the right at lower-level offices within his district," Pyeatt said, adding, "Shuster has strong links to the more conservative parts of the Republican Party, which will strengthen his position in the primary."
Shuster took over the rural Pennsylvania district in 2001 from his father, former Rep. Bud Shuster, who had served in the House since the early 1970s and had also chaired the Transportation Committee. According to Federal Election Commission records from October, Bill Shuster has raised nearly $1.6 million this electoral cycle with $1.1 million cash on hand. Halvorson, meanwhile, brought in $8,700 in the last quarter of 2013, during which his campaign spent $62,000, and he has $72,000 cash on hand.
Halvorson told HuffPost he is optimistic about his chances. Last month, he touted a poll sponsored by his campaign that showed him cutting into Shuster's massive lead in the primary. The Gravis Marketing survey had Shuster at 49.1 percent with registered voters, Halvorson at 22.5 percent, and 28.4 percent saying they were unsure. That was a significant improvement for Halvorson, who was trailing by 52 points in a poll released in October.
"He's left of moderate. He votes the right way on issues he knows he needs to vote on. ... He points people to those votes, and it causes people to not look very deeply on where he stands on those things," Halvorson said about Shuster.
When asked for comment on the primary challenge, Shuster's campaign manager, Sean Joyce, replied that Halvorson's recent poll is "just another attempt to divert attention from his incessant negative campaign, and to make voters forget that he recently moved to Pennsylvania to try and buy a Congressional seat. ... Survey after survey has consistently shown Congressman Shuster with a commanding lead in the primary."
Halvorson has lived in the 9th District since 2007, according to his campaign. "The Halvorson Family has nurtured ties to this area since the 1980's," said a statement from the campaign. "As an officer in the United States Coast Guard, Art did not have a choice where he lived, but after faithfully serving his nation for 29 years, he chose to reside in Bedford County, Pennsylvania in 2007. It is unfortunate that our opponent would resort to these tactics."
On Tuesday, the House Transportation Committee will hold a hearing about the reauthorization of the 2012 highway law.
REAL LIFE. REAL NEWS. REAL VOICES.
Help us tell more of the stories that matter from voices that too often remain unheard.
BEFORE YOU GO
PHOTO GALLERY
Out-Of-Touch Politicians