ESPN has punished Bill Simmons for writing tweets critical of Boston sports radio station WEEI. ESPN.com editor-in-chief Rob King wrote a blog post to confirm the news, writing that "we've taken appropriate measures."
ESPN Radio and WEEI announced a partnership on October 7, and Simmons has criticized the Boston station on his Twitter account at least twice since then. On October 26, Simmons tweeted: "WEEI's 'The Big Show' was apparently ripping me today. Good to get feedback from 2 washed-up athletes and a 60 yr-old fat guy with no neck."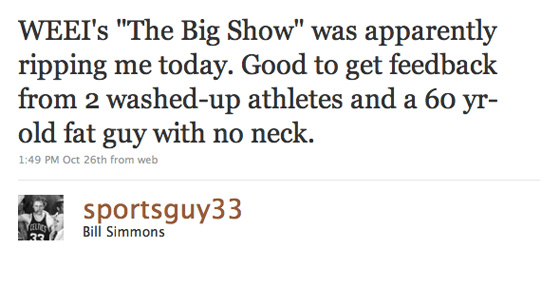 On November 10, Simmons knocked WEEI once more: "Hey WEEI: You were wrong, I did a Boston interview today. With your competition. Rather give them ratings over deceitful scumbags like you."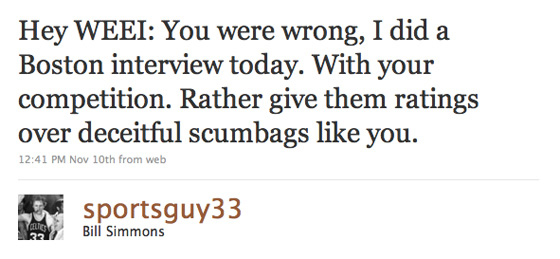 While King's post does not specify the terms of the punishment, The Big Lead reports that Simmons told a fan at a book signing that he had been suspended from Twitter for two weeks, with an exception for tweets about his book tour.
Popular in the Community