The sluggish U.S. economic recovery just claimed another job.
Bill Simon, CEO of Walmart U.S., is stepping down, Walmart announced on Thursday. Simon's tenure was marked by a long stretch of poor performance, but bad luck might have played a role in that: He held the post during a particularly terrible time for low- and middle-income Americans, who are also Walmart's core customers.
"His tenure perfectly parallels the worst economic period in the last 70 years," Charles Fishman, author of The Wal-Mart Effect, said of Simon.
Simon became chief operating officer of Walmart U.S., effectively second-in-command of that business, in 2007, the year the Great Recession began. He became CEO of Walmart U.S. in 2010.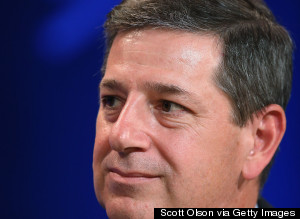 Bill Simon, former president and CEO of Walmart U.S., speaks to guests at the Clinton Global Initiative (CGI) on June 14, 2013 in Chicago.
During the recession and the subsequent ongoing recovery, low- and middle-income Americans have been plagued by high unemployment, stagnant wages, benefit cuts and a proliferation of low-paying, part-time jobs at the expense of stable, salaried middle-class work. For Walmart, this means shoppers -- many of whom are also burdened by high levels of debt -- just aren't spending like they used to.
As a result, Walmart's bottom line is suffering. The company's U.S. sales have fallen in 12 out of the past 20 quarters at stores open a year or more, according to Ken Perkins, head of the retail data firm Retail Metrics. Walmart executives have repeatedly cited last November's cuts to the federal government's food stamp program as a reason for the company's poor performance.
By that same logic, critics have argued that Walmart could help boost its own economic fortunes by raising wages for its more than 1 million U.S. workers, many of whom are the type of low and middle-income customers who would turn around and spend that raise at Walmart. Simon, who will net a severance package of $4.5 million payable through 2016, spoke out against proposals to mandate Walmart pay its workers in Washington, D.C. a minimum wage of $12.50 an hour.
Bad economy or not, some observers say Simon deserves a share of the blame for Walmart's woeful performance.
"It's long overdue," Brian Sozzi, CEO and chief equities strategist of Belus Capital Advisors, said of Simon's departure. "I've been waiting for this day and it's finally here. They let him stay at the helm for way, way too long, which is typical of the Walmart culture."
It's been speculated that a CNBC interview earlier this month, in which Simon offered a less-than-sunny assessment of Walmart's core customers and its domestic sales figures, prompted the company to accelerate his departure.
Since Walmart prides itself on being a destination for price-conscious customers, Fishman said, it's odd that more Americans haven't turned to Walmart during the recession and the recovery.
"People don't say 'The money is short, let's skip the toothpaste,'" he said. "Why hasn't Walmart actually done better?"
One reason may be that cash-strapped Americans are turning to dollar stores, which are in some cases cheaper and more convenient than Walmart. Online shopping has also become more prevalent: Where many people used to shop online only for large or expensive items, today it's common for shoppers to buy all of their goods over the Web.
Simon took steps to address many of these problems, analysts agree. He rapidly grew Walmart's Neighborhood Market stores -- essentially smaller Walmarts catering to urban customers who don't trek to the suburbs to shop. Simon was also part of a push to make Walmart's website and apps more compatible with its stores. (Customers can now refill pharmacy prescriptions with a Walmart app, for example.)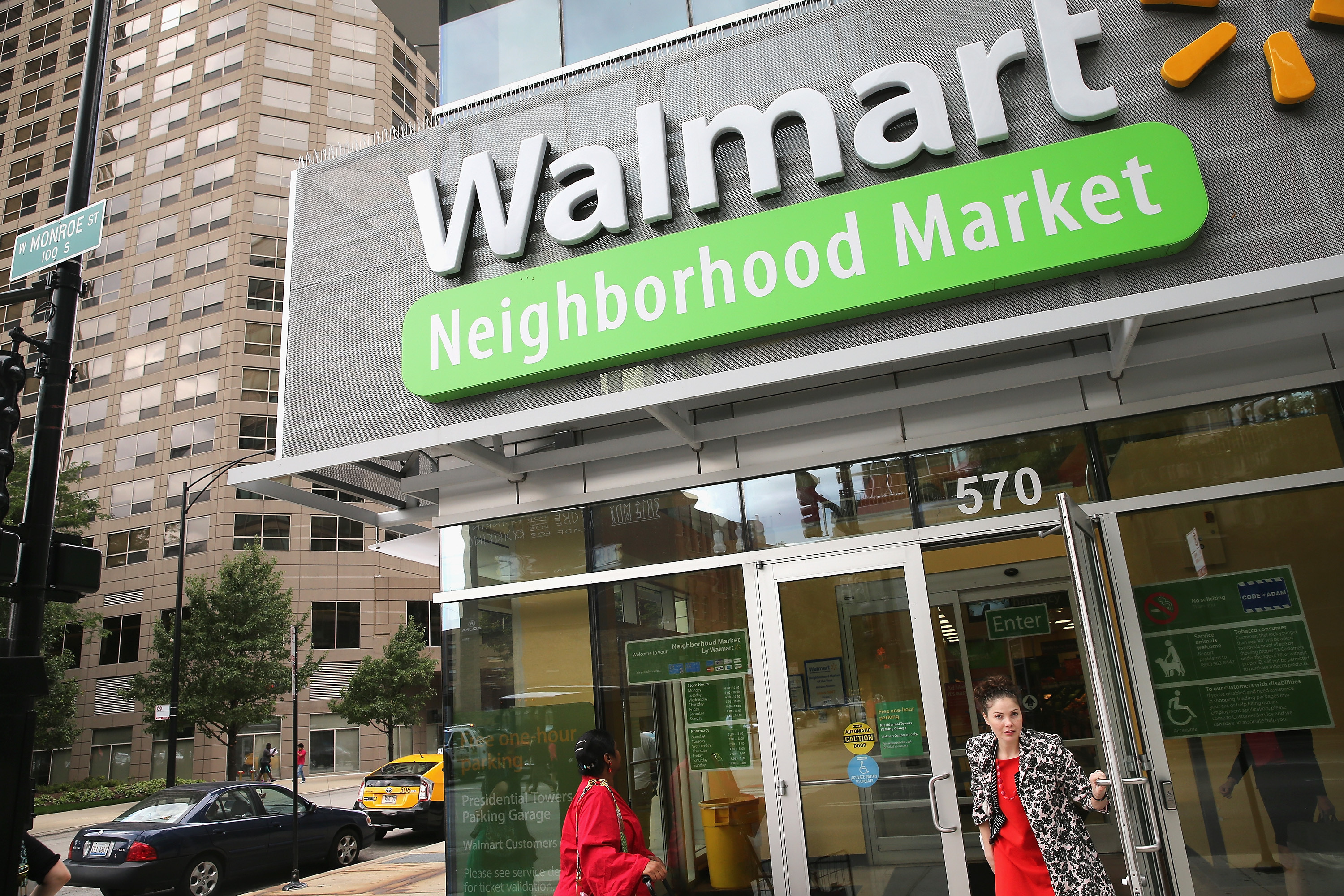 A Walmart neighborhood market in Chicago.
But it wasn't enough to turn the division around. Last year, Walmart's U.S. sales grew at a slower rate than the economy overall -- which grew pretty slowly itself.
"We know that we have to figure out a way to grow comp-store sales here in the U.S.," said Walmart spokesman David Tovar, using industry lingo for sales at stores open a year or more.
Tovar said Simon is leaving Walmart on good terms with the company. He added that Simon's departure came after he was passed up to succeed former CEO Mike Duke, who left earlier this year.
"In these situations, it's not uncommon for the person who doesn't get the job to leave and go figure something else out," said Tovar.
Simon's replacement, Walmart Asia CEO Greg Foran, will have a lot to figure out, too.
Calling all HuffPost superfans!
Sign up for membership to become a founding member and help shape HuffPost's next chapter