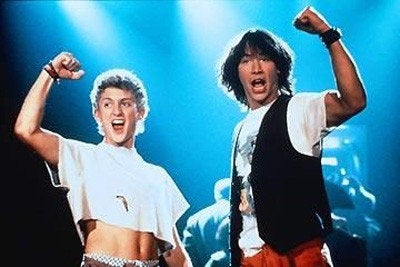 Bill and Ted are set to hop into their phone booth and travel to the future.
Alex Winter, who played Bill S. Preston, Esq., in the cult classic sci-fi comedies "Bill & Ted's Excellent Adventure" and "Bill & Ted's Bogus Journey," tweeted to a fan that the long-awaited threequel had finally been written.
"Just got the script. And now to read..." he wrote on Sunday (via /Film), confirming recent speculation that, 20 years after the series ended, it would begin again.
While it's long been a buzzed about possibility, Winter's co-star, Keanu Reaves, said earlier in April that the film's original writers were six weeks away from a draft.
"When we last got together, part of it was that Bill and Ted were supposed to have written the song that saved the world, and it hasn't happened," he told MTV about the third film's plot. "So they've now become kind of possessed by trying to do that. Then there's an element of time and they have to go back."
This is the biggest development for the series since 2007, when it seemed as if the film series would get a third installment -- in direct-to-DVD form, and without Reeves and Winter. Needless to say, a theater version with the two stars should be much more exciting for fans.
Following the two films, "Bill and Ted" got two brief TV spinoffs; in 1990, Reeves, Winter and co-star George Carlin voiced the animated series "Bill and Ted's Excellent Adventures." Less notably, in 1992, a live action show, with neither Reeves or Winter, had a short run.
Popular in the Community