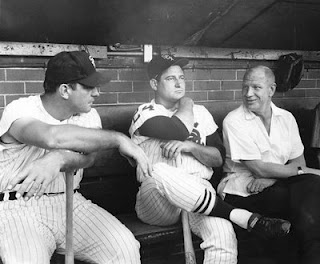 Arcadia is a pleasant little town at the foot of the San Gabriel Mountains, just east of Pasadena. Inside the Arcadia Public Library, around the corner from the main desk and just before the children's section, a host of very rare items are on display in sealed glass cases through May 24.
One is an old wooden peg leg, and another is a midget's jock strap.
The exhibit, created by an L.A.-based, baseball art, culture and history society called the Baseball Reliquary, celebrates the life and achievements of Bill Veeck, the most misunderstood but influential baseball owner in history. Last Saturday, members filled the library's auditorium for "VeeckFest," a film screening, panel discussion, and book signing for Paul Dickson's new biography, Bill Veeck: Baseball's Greatest Maverick. Veeck died in 1986, but this year also happens to be the 50-year anniversary of Veeck's controversial autobiography Veeck -- As in Wreck, so the timing of the event couldn't have been better.
Author Dickson shared the stage with Chicago journalists Ron Rapoport, John Schulian, and Chicago native and documentary filmmaker Ken Solarz, and as they shared their endless warm stories and feelings about Veeck, it was clear right off the bat how larger-than-life the man was, and how instrumental he was in bringing baseball kicking and screaming into its modern era. Moderator Terry Cannon of the Reliquary expressed how Veeck was one of the major inspirations for forming the organization in the first place, and it was no surprise that Veeck, along with Curt Flood and Dock Ellis, became the first three members of the Shrine of the Eternals, the group's homegrown hall of fame.
Veeck was part carnival barker, part social prophet, but like his longtime broadcasting associate Harry Caray might have said, he lived for "fun at the old ball park." He was born into baseball, his father being owner of the Cubs during the 1920s, and got his first job in the Wrigley Field ticket booth at age 11. After eventually becoming owner of the minor league Milwaukee Brewers, and unsuccessful bid to buy the Phillies and stock their roster with Negro Leaguers (blocked by the commissioner and other owners) he took over the reins of the Cleveland Indians in 1947. One year later, with first black American Leaguers Larry Doby and Satchel Paige on the team, they won the World Series.
Veeck's three years running the St. Louis Browns were far less successful -- or as a placard at the exhibit said, "AN EXERCISE IN FUTILITY." But they did feature Veeck's signature promotion on August 19, 1951, when a midget named Eddie Gaedel pinch-hit for Frank Saucier in the second game of a double-header with Detroit, took four straight balls from Bob Cain and was instantly pinch-run for. Saturday's panel discussion was interrupted for a theatrical re-enactment of the moment, as dwarf actor Nic Novicki came down the aisle in a full St. Louis Browns uniform with "1/8" on the back, toting a miniature bat. Less than an hour later, Joe Liss visited the room to do a quick but perfect Harry Caray impersonation, giving VeeckFest the unpredictable mirth it deserved.
After buying the White Sox (and taking them to the World Series in '59), he wrote Veeck -- As in Wreck and finally began to receive national accolades for his fan-friendly achievements. He pulled off countless other famous promotions, such as "Grandstand Manager's Day," with fans holding up giant YES and NO signs to decide the home team's strategy decisions, and giving away a thousand silver dollars encased in a giant block of ice. During his second tour of ownership with the White Sox he installed a shower in Comiskey Park's center field bleachers for hot summer days and briefly dressed his team in shorts. His most infamous and controversial promotion, though, was Disco Demolition Night in 1979, which caused a full-fledged riot between games and likely hastened the end of his career in baseball. (Retrieved melted platters by Peaches & Herb and K.C. & the Sunshine Band were also on display at the Arcadia Library.)
Veeck may have had his detractors back in a time when sports marketing didn't even exist, but his legacy has managed to strengthen itself with every passing year. He destroyed his leg on his second tour of duty during World War II and underwent sixteen amputations, but it never stopped him from limping into the ball park and enjoying himself. Ken Solarz spoke of the many times he sat with Vecck in Comiskey's bleachers, after Veeck had his morning beers, arrived at the park and immediately took his shirt off. He was extremely nice and friendly and unflaggingly public to every fan he met (His home phone was even listed in the Chicago directory.), and expanded his teams' fan bases by catering to women and children and minorities like no one ever had.
A wonderful print ad taken out by the Indians after he bought the team in '47 proclaimed that "the flap of the Wigwam is wide open... your comments and suggestions will be welcome." Below that are a host of boxes heralding "Radio Broadcasts whenever possible," "Ladies' Day -- without reservations" and "Bring the Papooses -- reduced prices." Without question, Bill Veeck was a force of good nature that the game will most likely never see again.
Jeff Polman writes fictionalized baseball replay blogs, his current endeavor being Mystery Ball '58. His first such blog, "1924 and You Are There!" has been published by Grassy Gutter Press and is available on Amazon.
Popular in the Community