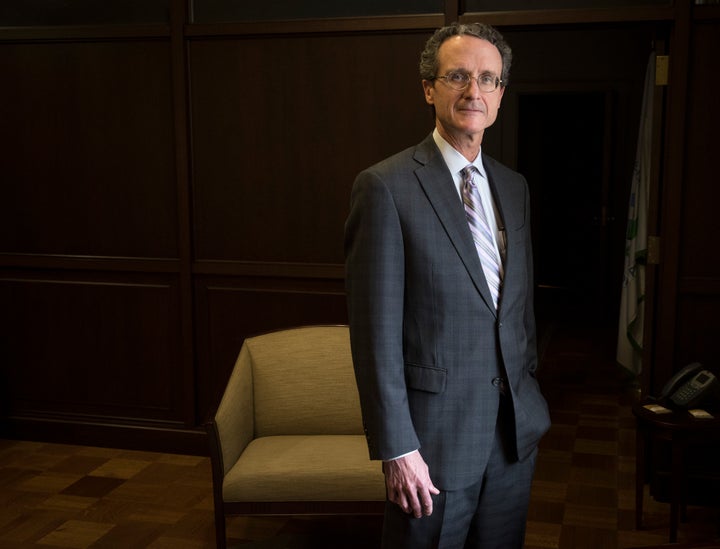 Bill Wehrum, the Environmental Protection Agency's air pollution chief who oversaw key rollbacks of Obama-era climate regulations, is stepping down amid an ethics probe into his ties to former industry clients.
The EPA announced the departure of its powerful assistant administrator for the EPA's Office of Air and Radiation in an abrupt press release on Wednesday, indicating that Wehrum had long planned to leave the agency.
"While I have known of Bill's desire to leave at the end of this month for quite sometime, the date has still come too soon," EPA Administrator Andrew Wheeler said in a statement.
But it comes two months after the House Committee on Energy & Commerce launched an investigation into allegations that Wehrum and a top deputy used their posts in the administration to help utilities they worked for at their former law firm, Hunton & Williams, now known as Hunton Andrews Kurth.
"While not the biggest name to face ethics problems in the Trump administration, William Wehrum was emblematic of the administration's struggles to remain ethical," Noah Bookbinder, executive director of the watchdog group Citizens for Responsibility and Ethics in Washington, said in a statement. "From almost the moment he took over the EPA, Wehrum appears to have been working to advance the interests of his former clients, apparently violating both his ethics agreement and the Trump administration's ethics pledge."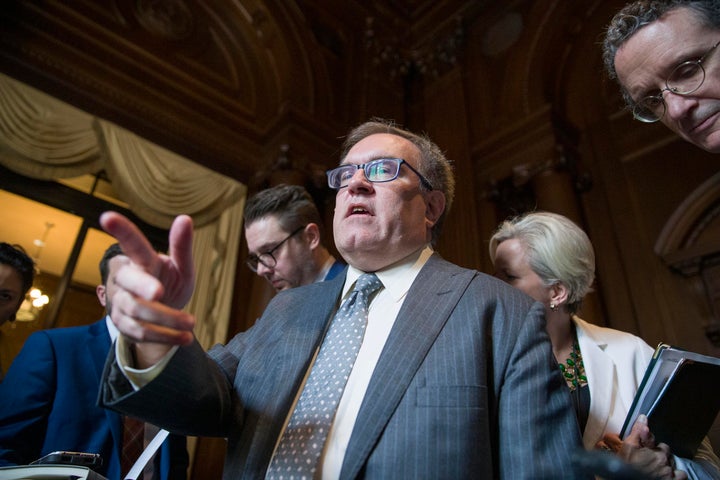 While at EPA, Wehrum met with Utility Air Regulatory Group, his former client and an umbrella organization funded by several companies that opposed stricter limits on pollution from coal-fired plants. The front group disbanded in May, weeks after House investigators sent letters to eight separate utility companies and Hunton requesting information about their relationship to the organization.
Wehrum also worked on an EPA directive that had direct legal implications for DTE Energy, a top utility his former firm represented in a case against the agency, according to The Washington Post.
The moves potentially violated the Trump administration's own ethics pledge, which requires political appointees to recuse themselves from matters involving former employers for two years. Wehrum denied any wrongdoing.
Rep. Frank Pallone (D-N.J.), the committee's chairman, called Wehrum's departure "welcome news" and vowed to charge ahead with the investigation.
"Much like UARG suddenly dissolving in the face of scrutiny, Wehrum is now suddenly leaving amidst investigations into his potential ethical misconduct — investigations that should, and will, continue," he said.
Mandy Gunasekara, a former top aide to Wehrum at EPA, downplayed the probe's impact on her former boss's decision to leave.
"This has been the plan all along," Gunasekara, who left the agency in February to start what she called the "pro-Trump" nonprofit Energy 45, told HuffPost by phone. "He never intended to do this for more than a year, and now is a good time to leave on a very high point after having achieved a lot."
Last week, the EPA finalized the Affordable Clean Energy rule, its coal-friendly replacement to the Clean Power Plan, former President Barack Obama's signature regulation to set a limit on carbon dioxide from power plants.
But other deregulatory pushes Wehrum led have yet to reach the finish line. The EPA's effort to weaken fuel economy standards is in turmoil as the agency struggles to reach an agreement with California regulators, who can set stricter rules under the Clean Air Act. The fight is expected to result in a prolonged legal battle, frustrating automakers.
"Wehrum is now suddenly leaving amidst investigations into his potential ethical misconduct — investigations that should, and will, continue."
That work now falls on Anne Idsal, the principal deputy assistant administrator for the air office, who the EPA said will take over for Wehrum in an acting role. Idsal, who took the job in late 2017, is a well-connected Republican operative from Texas who, like Wehrum, questions the basic realities of climate science.
Wehrum's exit comes a day after EPA announced a proposal to give political appointees more control over Freedom of Information Act requests, a rule change legal experts say would make it easier to withhold records.
"Wehrum's corruption may never have come to light with Wheeler's new policy designed to end FOIA as we know it," Sierra Club climate policy director John Coequyt said Wednesday. "Make no mistake — the Trump administration is weakening FOIA precisely because transparency laws have revealed numerous embarrassing and even career-ending scandals."
Ethical violations, while predictable in an administration that openly favors ties to regulated polluters as qualifications, nevertheless sparked scandals that toppled top Cabinet officials. Former EPA Administrator Scott Pruitt resigned last July amid a mountain of ethical violations. Former Interior Secretary Ryan Zinke, facing a bevy of accusations himself, quit one day before House Democrats gained oversight powers in December.
This has been updated throughout.
Popular in the Community