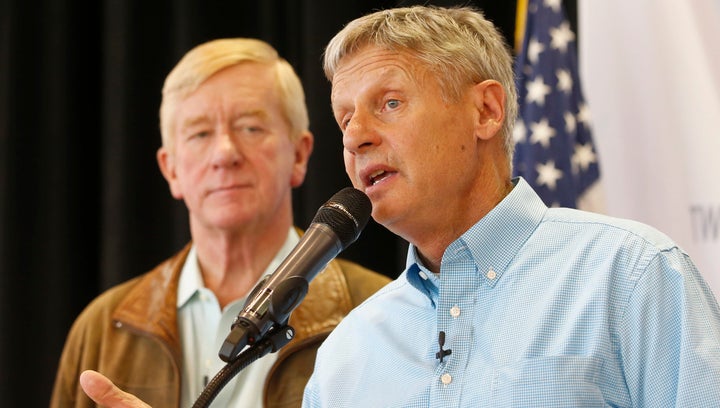 Libertarian presidential nominee Gary Johnson's vice presidential running mate, former Massachusetts Gov. Bill Weld, said Friday he thinks Democratic nominee Hillary Clinton is likely the most-qualified candidate in the 2016 race.
"I'm not sure anybody's more qualified than Hillary Clinton to be president of the United States," Weld said in an interview with MSNBC's Chuck Todd. "I mean, that's not the end of the inquiry, though. We were two-term governors, and I think Gary is very solid."
That's likely not the type of unwavering support Johnson wants from his running mate. But Weld did say he believes Johnson would be a better president than Clinton, citing the Libertarian's fiscal policies. 
"Gary and I both balanced our budgets and moved our states in more conservative fiscal directions," Weld said. "I think the next president has to do that or we're going to hollow out the economy, and we won't have the strength economically to do all the wonderful things that [Sen. Bernie Sanders (I-Vt.)] and Secretary Clinton have promised are all going to be for free."
Weld continued, "I love the guy. I think he's very solid and deep." 
Weld said he doesn't believe the Libertarian ticket will be a spoiler in the race, siphoning votes from Clinton. But he said he's concerned about the prospect of electing Trump.
"I think he's just in the wrong place trying to be president of the United States," Weld said. "Our ambition at a very minimum is to have Mr. Trump in third place among the three major tickets."
Joe Hunter, the Johnson campaign's communications director, downplayed Weld's remarks.
"Governor Weld was simply referring to her resume as a Senator and Secretary of State. It's nothing he hasn't said before, and he didn't say he is voting for her," Hunter told HuffPost in an email.
Weld's comment is the latest verbal hiccup for the Johnson campaign. On Wednesday, Johnson couldn't name the foreign leader he admires most. And earlier this month, he was widely mocked for asking "What is Aleppo?" when asked about the northern Syria city. 
HuffPost Pollster, which tracks publicly available opinion polls, shows Johnson trailing Clinton and Trump nationally: 
Calling all HuffPost superfans!
Sign up for membership to become a founding member and help shape HuffPost's next chapter
BEFORE YOU GO
PHOTO GALLERY
Election 2016