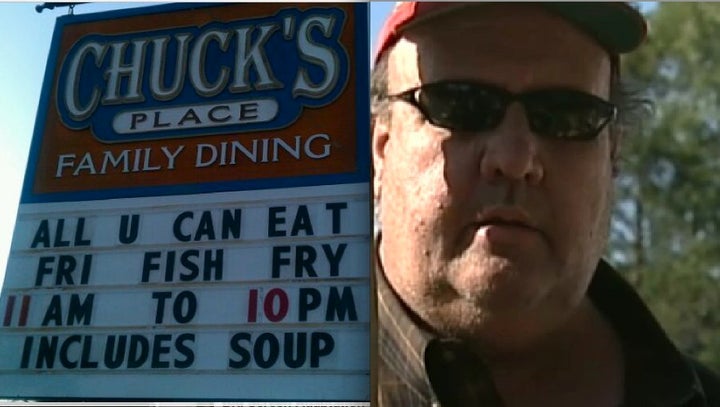 Hey, hey! Ho, ho! Gimme more fish and pizza, bro!
A Wisconsin man got cut off after he wolfed down a dozen pieces of fish at an all-you-can-eat fish fry, so he did what any red-blooded American would do: he made a picket sign and protested.
Bill Wisth -- a fish-eating machine at 6-foot-6-inches tall and 350 lbs -- was miffed when workers at his favorite local restaurant in Thiensville, Chuck's Place, said they were running out of yummy sea creatures.
"It's false advertising," Wisth told TMJ4. "We asked for more fish, and they refused to give us more fish."
Fed up with his whining, workers gave him eight more pieces of fish to go, but it wasn't enough. Wisth called police -- a move that turned up no results -- and came back two days later with a picket sign.
"I think that people have to stand up for consumers," he said.
The eatery didn't change its policy for Wisth. Waitress Elizabeth Roeming said the man has been a problem for years, and has a substantial tab he hasn't yet paid off, the Associated Press reported.
But Wisth said he's not done fighting the great fish fight, nor is he finished with fish-fry Fridays at Chuck's Place. Heck, he still admits the food is irresistible.
"They do have like some of the best pizza in town, if you like deep dish pizza," he told TMJ4.
He plans to picket every Sunday until the restaurant lets him eat all he can eat.

Related
Popular in the Community