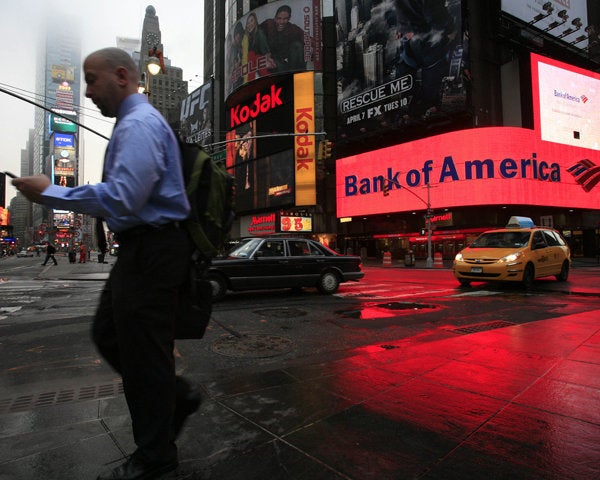 A bipartisan pair of House lawmakers have a response to the Citizens United Supreme Court decision that allows unlimited corporate money to flow into elections.
Reps. David Price (D-N.C.) and Mike Castle (R-Del.) told the Huffington Post in a joint statement that they plan to introduce a bill that would force CEO's to take ownership of their company's ads.
For example: "I'm Brian Moynihan, the CEO of Bank of America, and I approved this message."
The two House members plan to push the "Stand By Every Ad Act", which would force a corporate chief to issue a similar message at the end of every commercial.
Price was the lead sponsor of the original "Stand By Your Ad" measure, which became law as a part of the 2002 Bipartisan Campaign Reform Act. It was that legislation that led to the ubiquitous claims of responsibility at the end of political ads that we know today.
"Failure to apply 'Stand By Your Ad' to these entities may lead to a regression to the days when disparaging or deliberately misleading ads could be run without voters ever knowing who was behind them," Price said. "If candidates and political parties have to take responsibility for the ads they run, corporations and labor unions should have to do the same."
Castle is running for the vacant Delaware Senate seat and has been a longtime champion of campaign finance reform.
"This bill would simply extend the same transparent disclosures requirement to special interest groups that candidates are currently required to provide in their campaign advertisements," Castle said.
The bill would also require Web and email ads to identify their funding source. The money behind robo-calls would be required to be disclosed up front, surely leading to a steep hang-up rate -- a welcome (perhaps intended) consequence of the bill.
"The Internet and new media have transformed the political landscape, but our legislation to ensure responsible advertising hasn't kept pace," Price said.
Price is a member of the task force of Democrats considering legislative pushback to the Supreme Court decision.
Popular in the Community