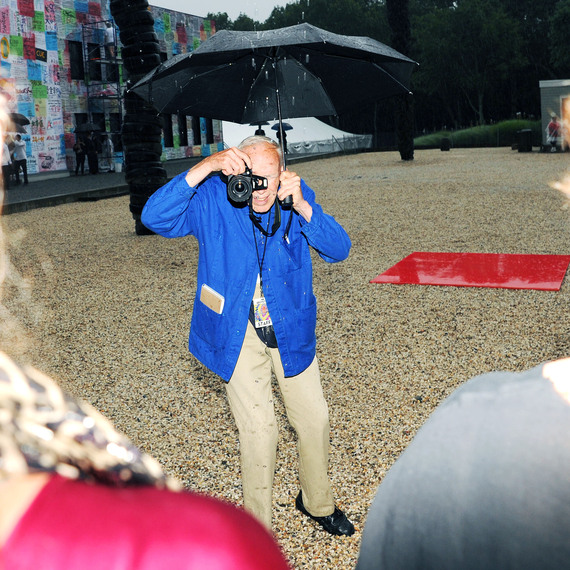 Rain or shine, Bill never missed the chance to capture New York City's street style. Photo credit: Billy Farrell/BFA.com, 2012

As all of New York and most of the rest of the world knows, the inimitable Bill Cunningham died recently, unexpectedly, but at the age of 87. Bill never stopped working. His work was taking pictures of New Yorkers with a clear and loving focus on the way they styled themselves with hats, or scarves, or bikes, or dogs for instance, and often on-the-go. He was a photographer, of course, but he was also a story-teller, a fashion commentator, a New York Times reporter, a chronicler of urban life; and he was an original in every category. He rode his bicycle everywhere, parking in his favorite places to document the singular looks and lives of New Yorkers. He took his aim at Fifth Avenue and 57th Street (now called Bill Cunningham Corner), the Union Square Farmer's Market, society balls and benefits, Central Park, Carnegie Hall (where he lived until 2010).
Bill was a lot of things. Some years ago, the New York Landmarks Conservancy named him a "living landmark" and in 2010 he was honored with the Mayor's Award for Arts & Culture by Michael Bloomberg. At the time of his death, new descriptions rose and old ones surfaced. The Washington Post called him "a character" and a "trend spotter." NPR called him "iconic." He was "the forefather of street style photography" on businessoffashion.com; an "unlikely cultural anthropologist" in the Times. Reuters said "celebrated." Time said "legendary." Indiewire said "the subject of the 2010 documentary," which was also true. He was in the picture that time.
For me, the truest tribute was offered by the writer Dan Shaw in a 2013 piece in New York Magazine which surfaced online when Bill died. Shaw wrote "I'd say that all of Bill's photographs are actually valentines." My sense, too, is that Bill celebrated and cherished all the people he encountered. He had a fine appreciation of the differences that distinguish us, and showed us that styles are simply ways of expressing the differences. But styles, as he made clear, also show our likenesses. So many of us all at once in black and white? Or in bare shoulders? Or torn jeans? Or long skirts? Or sequined jackets? The images are complex comments on the ways we are both unique and alike. Simultaneously. And always, for Bill, lovable.
Personally, like many New Yorkers, I felt close to Bill and cherished that closeness. He knew my family; he sent pictures to us through the mail, and he communicated so much interest and enjoyment whenever we met. "Look happy!" he would say, and it was impossible to be unhappy. "Good time!" he would say, and you knew you were having one. He responded with special warmth to those who want to make life better for others - he valued generous, warm and spontaneous personalities, and he was one himself. "This is a good thing we are doing," he would say, and he called us all "child" however old we were, as though we could always learn and grow - as he did.
I was at a gathering recently where people were sharing pictures they had taken of Bill as they glimpsed him on the street. These were not people who knew him; the truth is that Bill captivated all of us. He knew no strangers. People sensed that accessibility, and many, many of them tried with their own cameras (or phones) to capture his passion, his gallantry, his presence in that blue jacket, with his smile and his stoop. Bill pictured us, and we - in esteem and empathy - pictured him in turn. I think that may be the biggest tribute of all.
Bill found charm and character in the city's streets and citizens. He cherished the New Yorkers he knew and - equally - his anonymous New Yorkers. He warmed every room and every heart he entered. He will be the spirit we love in the city he loved.
Calling all HuffPost superfans!
Sign up for membership to become a founding member and help shape HuffPost's next chapter