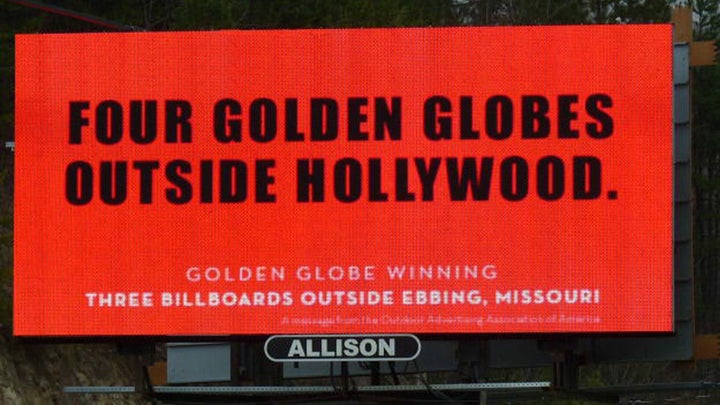 The Golden Globes on NBC began with Seth Rogen touting the power of one billboard to hype a film called "The Room"and ended with director Martin McDonagh accepting the Best Picture award for his billboard movie.
Billboards are a hot property, like an award-winning script in Hollywood.
McDonagh's "Three Billboards Outside Ebbing, Missouri" swept four Golden Globes on January 7, after also winning Best Picture from the Australian film academy two days earlier. It won People's Choice at the Toronto International Film Festival, sometimes an Oscar precursor.
The plot of McDonagh's dark comedy and Seth Rogen's riff about a single billboard promoting an obscure film share a common point about media messaging: billboards are effective communication.
In McDonagh's small-town revenge parable in fictional Missouri, lead character Mildred Hayes (played by Golden Globe Best Actress Frances McDormand) wants to be heard. Her all-caps billboards, three of them, give her voice.
Billboards shown in this award-winning film were custom built by family-owned Allison Outdoor Advertising Company in rural Sylva, NC, where much of the movie was filmed. The filmmaker insisted on printed paper, which was glued to three billboards installed in a cow pasture in western North Carolina.
Black-on-red paper printed for the "Three Billboards" movie at Associated Posters Inc in Kernersville, NC
Today, paper and glue are all but gone, replaced by large-format recyclable single-sheet vinyl attached to billboard posters.
The out of home (OOH) ad industry joined the cheerleading for "Three Billboards" during Hollywood's award season. This boosterism helps explain why billboards are hot:
In McDonagh's small town or Rogen's Los Angeles, billboards are exclamation points. They are seen by real people in the real world, repeatedly.
Today's billboards are flexible, with quick change of copy. Prior to the Golden Globes, billboards cheered for "Three Billboards" with this all-caps message: THIS BILLBOARD DESERVES AN AWARD.
After the awards show, the "copy" on these digital billboards was changed quickly to say thank you and to tout the number of Golden Globe awards.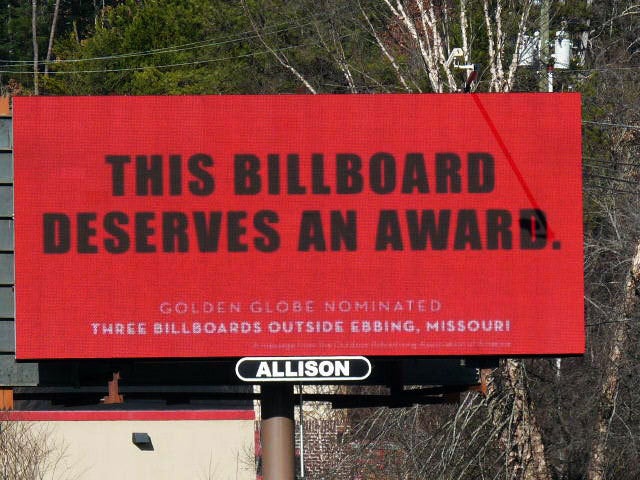 Promotional billboard before the Golden Globe awards, in Sylva, NC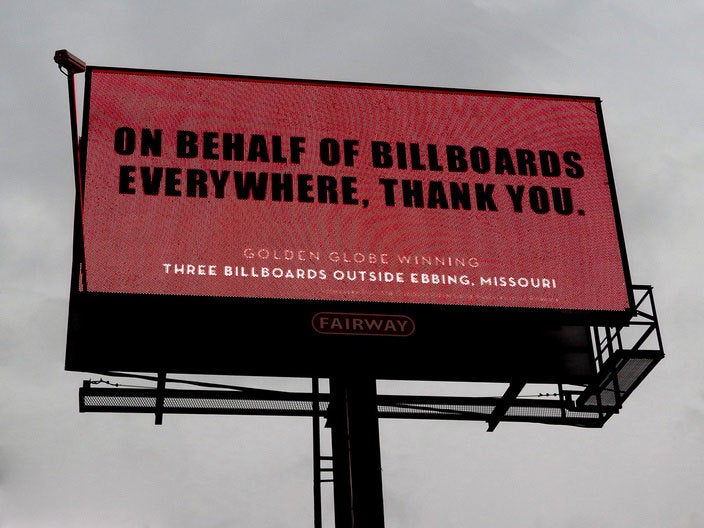 Thank-you message posted after the award show, in Asheville, NC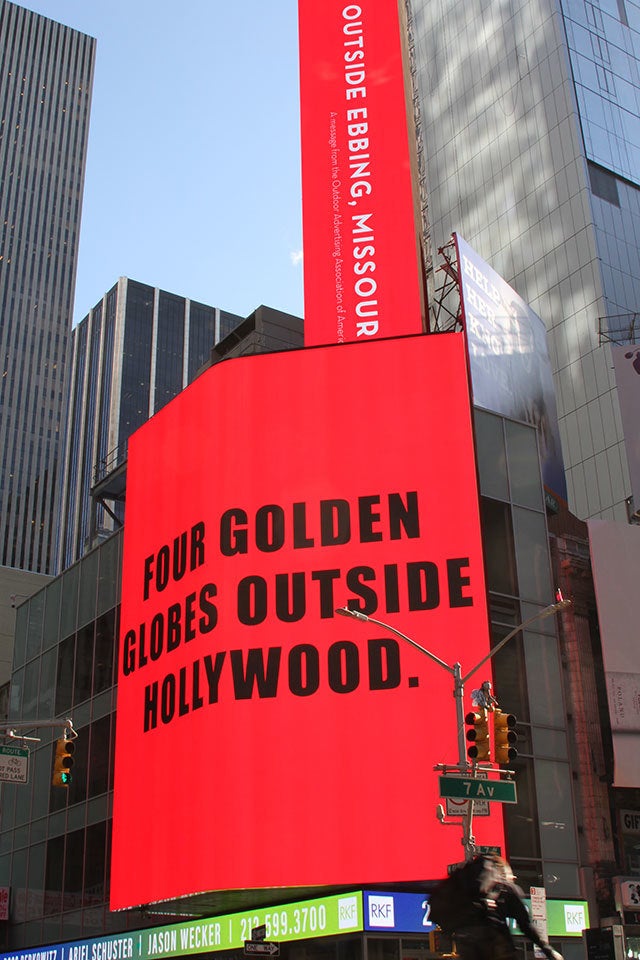 OUTFRONT Media's digital display in Times Square.
Digital billboards are located in big markets and small towns like Sylva, NC (population 2,644). Nationwide, more than 7,300 billboards are digital.
The current buzz in Hollywood highlights that signs are part of our culture — fundamental to shared stories — and also for the promotion of those stories.
In 2016, Warner Brothers, HBO, and Universal were among the top-20 customers of OOH advertising.
Rogen's Hollywood-billboard story was about a single billboard promoting an off-beat film. Describing this billboard at the Golden Globes show, Rogen recalled, "there was no studio, and there was no distributor. There was just like this guy's head" on a billboard with a phone number.
Billboards are a hot property.
Related
Popular in the Community