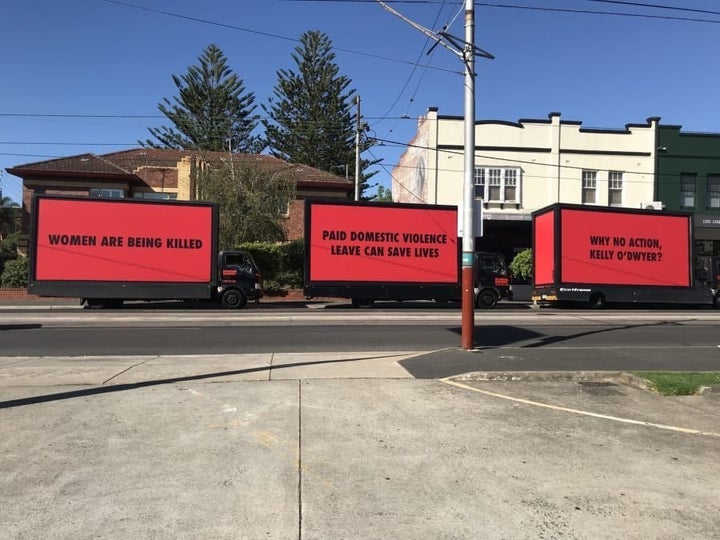 Drawing inspiration from the American movie "Three Billboards Outside Ebbing, Missouri," Australian trade unions parked their version outside the office of the minister for women Thursday to call on the federal government to mandate paid domestic violence leave for all workers.
As International Women's Day was being marked, the Australian Council of Trade Unions (ACTU), which represents more than 2 million workers, parked three red signs outside the Melbourne office of Kelly O'Dwyer, the minister for women, whose responsibilities include strengthening women's economic security, helping women attain leadership roles and keeping women and children safe from violence.
The billboards stated, "Women are being killed," "Paid domestic leave can save lives" and "Why no action, Kelly O'Dwyer?"
The ACTU is calling on the government to make 10 days of paid domestic violence leave available to all workers. Australian trade unions have been pushing for paid domestic violence leave to be inserted into government-mandated minimum working conditions for all workers nationwide for some time.
Statistics collated by Our Watch, a nonprofit that aims to raise awareness about violence against women and children, show that 1 in 3 Australian women has experienced physical violence since the age of 15, and 1 in 4 has experienced physical or sexual violence by an intimate partner. Our Watch says that, on average, one woman in Australia is killed each week by a current or former partner. Another monitoring project, Destroy the Joint, reported that, as of March 4, at least 11 women had been killed in domestic violence situations so far in 2018.
Domestic violence leave is an uncommon yet growing workplace condition in Australia. Paid time off for workers to deal with domestic violence situations ― such as being forced to leave home, resettle children or pets, get their finances in order or seek medical or psychological help ― is available to about 1 million workers in Australia, according to the ACTU, but is provided only on a voluntary basis by forward-thinking employers.
O'Dwyer said it was "absolutely disgraceful that... the ACTU would play politics with domestic violence in an attempt to score cheap political points," to which the union answered on Twitter: 
"We're going to do whatever is necessary to bring this issue into the open," ACTU secretary Sally McManus said. ″[Workers] are going to be more productive, and they're going to stay in their jobs."
Unions have claimed that such a nationwide program of domestic violence leave would cost as little as five cents per employee, and they have appealed to the Fair Work Commission (FWC), Australia's industrial umpire, for the condition to become a standard work entitlement. However, the reform was opposed by the former minister for women, Michaelia Cash, and O'Dwyer has not yet expressed support for the change.
Last year, the FWC ruled that 10 days of unpaid leave should be available under standard work agreements, but unions are pushing for the 10 days to be paid leave so that domestic violence victims do not have to choose between earning money or making emergency arrangements. Unions celebrated it as a minor win at the time, claiming it would be the first such system of its type in the world, but committed to continuing the fight to secure paid leave.
"We need to change our current workplace laws because they are failing women," said Gerard Dwyer, national secretary of the Shop, Distributive and Allied Employees Association, at the time of the decision. "One way to do that is by providing access to the time off they need to escape an abusive or violent situation, including attending court hearings or looking for a safe home to relocate children and pets."
The billboards will be driven around Melbourne for the next few days.
Calling all HuffPost superfans!
Sign up for membership to become a founding member and help shape HuffPost's next chapter