"I met you when you were a little tiny baby," host Ellen DeGeneres began, telling Lourd that the "Star Wars" icon was a favorite guest of hers on the talk show.
"She always takes over any talk show in this really aggressive way, so kudos to you," Lourd joked.
After discussing Lourd and Fisher's time on screen together in "The Force Awakens," DeGeneres mentioned Reynolds, eliciting cheers from the audience.
"I got a lot of goddesses," Lourd said before opening up about the reality of living without the two stars.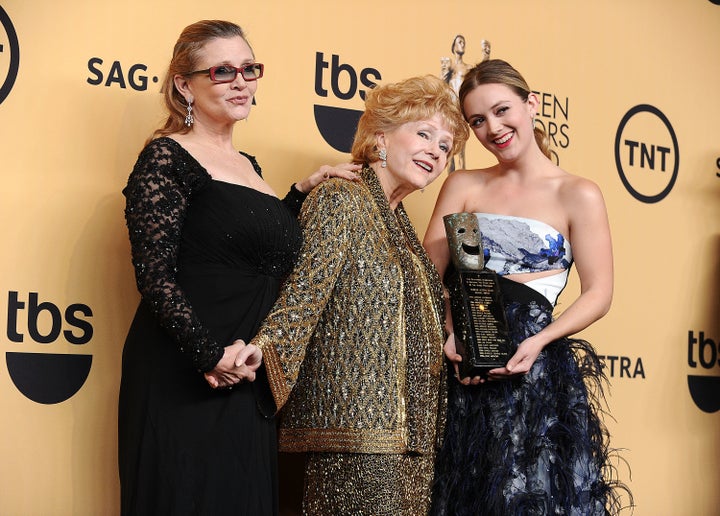 "It's completely surreal," she told DeGeneres. "There's no way to really explain it," she said. "It's so hard to talk about. I don't know, if I say that I'm doing good, I'm too happy. And if I say that I'm not doing good, then I'm a mess. So it's really hard to know what to say about it because it is just so surreal and impossible to deal with."
"I've always kind of lived in their shadows, and now is the first time in my life when I get to own my life and stand on my own," Lourd told Town and Country magazine in August. "I love being my mother's daughter, and it's something I always will be, but now I get to be just Billie." 
She's carrying on the family tradition by continuing her budding acting career, which has included a turn on "Scream Queens" and in the latest "AHS" season, "Cult."
"I love music, too, someday I hope to develop the ... cajones — is that an appropriate word to say on 'Ellen'? I don't know if I can say the other word," Lourd told DeGeneres. "So, yeah, if I can develop the cajones to do music, I will someday. But for now, I'm really digging this acting thing." 
Calling all HuffPost superfans!
Sign up for membership to become a founding member and help shape HuffPost's next chapter
BEFORE YOU GO