After years of reports about corrupt state officials defrauding the government, South Dakota's Republican lawmakers in 2017 called an emergency session of the Legislature. The goal? To squash a referendum the state's voters had passed just months earlier to impose stringent new ethics and campaign finance rules.
Now, the Democrat who led the fight against the Republicans' brazen move is using an anti-corruption message to mount a surprisingly competitive campaign to become the state's next governor.
Billie Sutton, a 34-year-old rancher, former rodeo competitor and state senator, is promising his first order of business as governor will be to make South Dakota's government more transparent and reform its campaign finance laws. It's a nonpartisan policy, embraced by Democratic, Republican and independent voters across the state, and it could help push Sutton over the top in a state that leans heavily Republican.
"People have lost trust in their state government," Sutton, the leader of the Democratic Party in the state Senate, told HuffPost. "There's a growing movement of frustration that the voters aren't being listened to."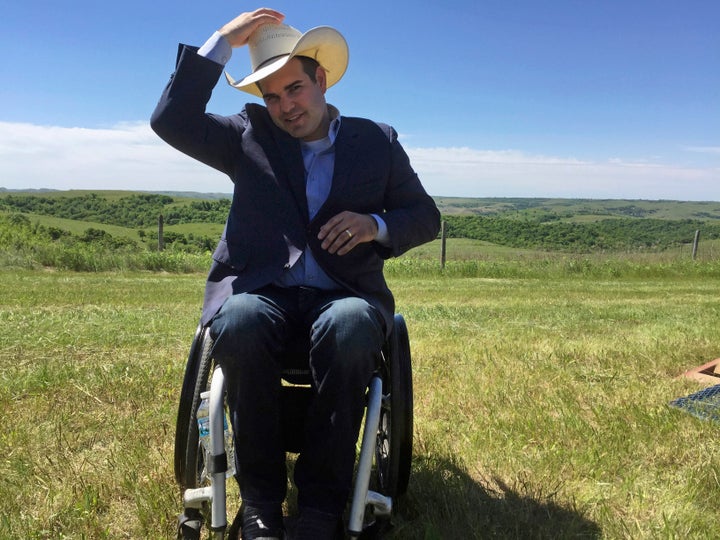 Sutton's stunningly successful bid comes as national Democrats have struggled to make President Donald Trump's corruption a central issue in the battle for Congress. But it could provide a template for how good-government Democrats can succeed even in the reddest places on the political map.
South Dakota hasn't elected a Democrat as governor in Sutton's entire lifetime, and President Donald Trump won the state by 30 points in 2016. But it wasn't long ago that the state was represented by three Democrats in Congress ― two in the Senate and one in the House. Those elected Democrats were slowly wiped out from 2004 to 2014 as the state followed the national trend of increased regional partisan polarization. They were replaced by the state's current senators ― John Thune and Mike Rounds ― and Rep. Kristi Noem, who is the Republican nominee for governor in 2018.
The race between Sutton and Noem to replace outgoing Gov. Dennis Daugaard (R) is currently very close. The most recent poll in the race, released on Thursday, put Noem up three points over Sutton while the previous poll had the race tied.
Sutton is looking to reverse the party's longtime slide in his home state by focusing on issues like corruption, economic development, education and health care that have support from voters of all political stripes. He emphasizes his bipartisan credentials as a lawmaker who has won election in a Republican district and worked with Republicans to balance budgets and cut taxes in the Legislature. He also has mostly avoided controversies over the policies that normally doom Democrats in South Dakota, as he backs gun rights and is opposed to abortion. That may cost him national attention and party support, but that's perfectly fine with him.
"Our focus isn't on what the national party has done right or done wrong," he said.
It also helps that he's a young politician who has stayed in South Dakota while his opponent is a congresswoman who has spent the last seven years casting votes in Congress ― a body that is not popular in any state. He has hammered Noem as an ambitious Washington insider who is running a campaign with money that she transferred from her federal campaign account. This was a practice that was banned in the referendum passed by voters in 2016 and reversed by the Republican Legislature almost immediately after.
"She's just been climbing the ladder, one elected office at a time," Sutton said.
Sutton's ads also highlight his cowboy image and small-town personality. He's almost always wearing a cowboy hat and is often shot on horseback, talking to his constituents at a diner or sitting in front of Main Street in his hometown of Burke. What also comes across in his ads is that Sutton is paralyzed from the waist down.
While his grandfather served in the Legislature from 1972 to 1978 before running unsuccessfully for lieutenant governor, Sutton was not interested in a political life. His real love was rodeo. He competed in rodeos in high school and then in college while studying for a degree in business finance. Just as he was working toward graduation, a horse flipped over on him at a competition in Minot, North Dakota. He woke up paralyzed from a shattered vertebrae and learned that he would never walk again.
He says he never would have gotten through the devastation of his injury if it weren't for his family, friends and faith, and his future wife, Kelsea, whom he had only been dating for two weeks when the accident happened. The support he received from his community gave him a new purpose and a desire to give back.
"I had a lot of support, and it kind of awakened in me a service-over-self mentality just because of the people that invest in me," Sutton said. "I wanted to give back. And the Legislature is the perfect example of that."
Sutton's personal story, his still-local roots and his bipartisan credentials in the Legislature help explain part of his success so far. But his anti-corruption focus is what really stands out. In calling for ethics, transparency and campaign finance reforms, he's found a nonpartisan way to set himself apart from the one-party government that has ruled the state's politics for decades. As the Argus Leader, the local paper of Sioux Falls, South Dakota, said in its endorsement of Sutton, "In some ways, this permanence of one-party rule has hindered progress."
The problems resulting from the Republican Party's one-party rule are seen in the scandals it has produced. In one scandal, a cabinet official who ran the state's EB-5 visa distribution was accused of diverting hundreds of thousands of dollars to a company that he then went to work for. EB-5 visas provide lawful permanent residency to immigrants investing $500,000 or more in the economy and have been a source of scandal in other states as well. The Gear Up scandal involved state officials and contractors stealing money from a program meant to inform low-income high school students about colleges and universities. Both scandals revealed a glaring lack of transparency in the government's operations and helped fuel campaigns to enact ethics reforms.
"As I've traveled the state, that's been the No. 1 issue that I've heard about is a lack of accountability ― a lack of transparency ― that people are just very frustrated because it's costing the taxpayers with wasted, fraudulent expenditures, and that's not allowing us to prioritize where we need to prioritize their dollars," Sutton said.
These issues are clearly on voters' mind. On Tuesday, they'll get another shot at approving a ballot measure similar to the one Republicans torpedoed last year. Sutton has promised he will promote and protect the amendment while pushing for additional transparency and campaign finance reforms.
CORRECTION: A previous version of this story misstated the location of Minot. It is in North Dakota.
REAL LIFE. REAL NEWS. REAL VOICES.
Help us tell more of the stories that matter from voices that too often remain unheard.