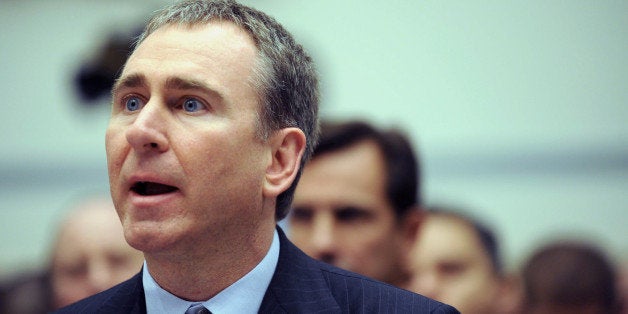 WASHINGTON -- Ken Griffin, the hedge fund billionaire who once complained about the wealthiest Americans having "insufficient influence" in politics, has become the first -- and so far only -- donor to report giving the maximum amount to a national political party under newly loosened campaign contribution limits.
According to a Friday filing with the Federal Election Commission, Griffin gave $324,000 to the Republican National Committee in January.
This huge contribution was split among four separate accounts, two of which were made possible by rule changes slipped into the December omnibus budget bill and one of which could expand due to that legislation. Griffin gave $32,400 to the RNC's central election account and $97,200 each to the committee's building, recount and convention funds.
In a 2012 interview with the Chicago Tribune, Griffin had explained that he would be increasing his political investments because, in his judgment, the rich had "insufficient influence" in the political process. The view from Griffin's perch running the hedge fund Citadel is not shared by many others. Multiple political scientists, for example, argue that the rich and the near-rich are the only people who have any real influence in the political arena.
Prior to the December legislation, party committees could accept $32,400 per year from an individual donor for their main account and another contribution for their recount account. This meant that before 2015, a single donor could give a maximum contribution of $64,800 per year to a party committee. Griffin's contribution to the RNC is five times that amount.
A few other donors have taken advantage of the new limits, albeit not as generously as Griffin. They include Timothy Curt of Warburg Pincus, Michael Vlock of Crittall Windows and Stephen Ziegler of Inpro Corporation. All three gave to the RNC's new accounts.
House Minority Leader Nancy Pelosi (D-Calif.) pointed to the measure as a reason to redouble efforts to pass new campaign finance reforms in a letter circulated after the bill's passage. "The inclusion of the outrageous campaign contribution provision gives further evidence of the need for campaign finance reform, and an opportunity for advancing initiatives to empower small donors and all American voters," Pelosi wrote.
Nonetheless, Democratic budget negotiators made the deal with Republicans to raise the contribution limits. Marc Elias, a lawyer for the Democratic Senatorial Campaign Committee, was tapped by Senate Democratic leadership to negotiate a possible change, and he emerged from the talks with those dramatically higher limits.
More money from wealthy donors could help the DSCC pay back loans it took out to purchase a new headquarters. The building funds made possible by the December legislation are permitted to pay off debts incurred in the past two years.
How much, or from whom, the DSCC has raised this year in its new building fund (or in its recount and convention funds) is not yet known. Because the party committee changed its filing status with the FEC, its next report is not due until July 15.
As for the Democratic National Committee and the Democratic Congressional Campaign Committee, they do not appear to be taking full advantage of the new limits yet. The only contributions to the new and expanded accounts so far are a $2,800 donation to the DNC's convention account from an S. Grace Williams and a $10,000 donation to the DCCC's recount fund from Higher Education Partners founder Michael Perik.
Because of the new rules, individual members of Congress are likely also feeling pressure to raise more money through their leadership PACs to give to the parties. Previously, those PACs could donate only $15,000 a year to party committees -- although lawmakers could transfer unlimited sums from their own campaigns. Now, the leadership PACs can be tapped for $15,000 for the party committee's election account and another $45,000 each for the recount, building and convention accounts, for a total of $150,000.
Since December, the leadership PACs of Reps. Paul Ryan (R-Wis.), Fred Upton (R-Mich.), Greg Walden (R-Ore.) and Bob Goodlatte (R-Va.) have all made large contributions to the recount and building funds controlled by the National Republican Congressional Committee.
Calling all HuffPost superfans!
Sign up for membership to become a founding member and help shape HuffPost's next chapter
BEFORE YOU GO
PHOTO GALLERY
2014 Election: $500,000-Plus Super PAC Donors