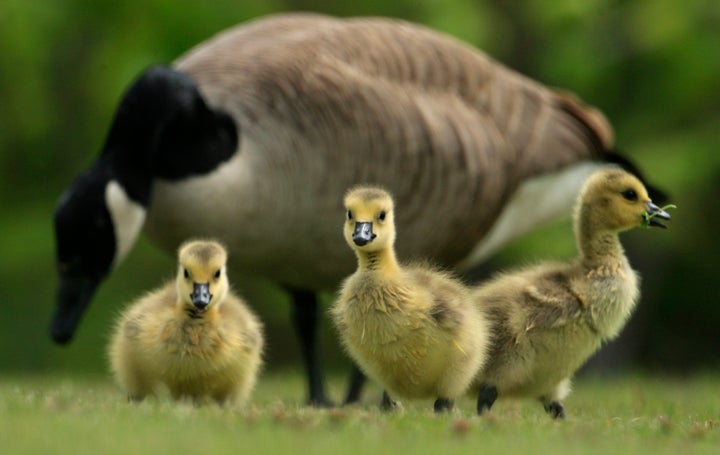 It's summer in the city, and that means weekends at the beach, walks in the park, and, for the third year in a row, the annual slaughter of Canada geese. Those same birds that add charm and atmosphere to our green spaces have become victims of their disorderly ways. They produce excrement, and every June they molt, another messy annoyance that also renders them temporarily flightless and easy to round up and make disappear.
Since eliminating a species at their most vulnerable because they are untidy is unacceptable to many constituents, it was necessary for Mayor Michael Bloomberg to put a different spin on why our public parks are being turned into wildlife killing fields. Last year the mayor's office said airline safety was the reason for exterminating the charismatic, waddling, 25-pound birds with stronger family values than most politicians (they mate for life), claiming that they were the villains responsible for mishap with US Airways flight 1549, aka "the miracle on the Hudson." But, when it was repeatedly pointed out that 1) those birds were migratory, and the ones in New York City parks, perfectly happy to stay at home, are not, and 2) if the bird/plane line of reasoning is followed, all large migratory birds, even American bald eagles, would have to be killed, the mayor's flacks had to come up with a different story.
They have, and it's a doozy. This year's slant is that the geese will be trucked to Pennsylvania, "euthanized," inspected by the USDA, and distributed to food banks. Apparently the poorest of the poor in the Keystone State are clamoring for stringy wild fowl that may or may not be fit for human consumption, due to alarmingly high rates of mercury and other toxins.
A few years ago I spent a day at the excellent Westside Food Bank on West 86th street in Manhattan. This is a supermarket style food pantry, where customers have a choice in what they put into their shopping carts. That day, the only meat available was emu. These large flightless birds native to Australia are low in saturated fat and calories, and a viable red meat alternative. Some ranchers out west invested in raising them for food, but, to put it mildly, supply was greater than demand, and a large surplus was USDA inspected, frozen, and shipped off to food pantries. The emu couldn't even be given away. Even if they had access to a stove, the clients wanted rice, beans, fruits, vegetables, pasta, beef and chicken, not a frozen red brick of mystery meat. At the end of the day most of the shelves were empty, but the freezer was still filled with the ground emu.
Back to the geese: the birds, if they pass USDA inspection, will also be frozen and sent to the food banks. Unless "the poor" have freezers big enough for a large bird, and this is unlikely, they will have to cook the goose in the next day or two, which means that they will need big ovens, roasting pans, carving knives, chopping blocks, and a pantry filled with herbs, spices, butter, and stock. They will also need Thomas Keller, because unlike domestic birds, wild geese have little or no fat, and skill is needed to make them palatable. You can take a chicken, rub it with some oil and salt, roast it for about an hour, and it will be perfectly fine. But a wild goose, at the very least, needs a lot of herbs, spices, butter, and aromatics to make it even barely edible, none of which "the poor" are likely to have on hand. The geese will remain in the pantry freezer, until, eventually, they are discarded.
I am a reasonably experienced home cook, and I have cooked wild goose. It is time consuming, labor extensive, and expensive, and generally unsuitable for a food pantry, that needs food people can prepare with a minimum of skill, fuel, time, and ingredients. But in case Mark Zuckerberg or anyone else dedicated to taking personal responsibility for killing what they eat would like a recipe, here is a good one, courtesy of John Manikowski, that I found online.

Ingredients

1/2 cup (1 stick) butter
1 cup carrots, shredded
1 cup celery, diced
1 cup onion, finely chopped
1 medium apple, cored, peeled and chopped
4 garlic cloves, finely chopped
1 cup veal (or low-salt chicken) stock
1/2 cup dry white wine
1/4 cup chopped fresh parsley
2 tablespoons dried rosemary
2 tablespoons dried thyme
4 bay leaves
1 teaspoon salt
1 teaspoon cracked pepper
1 whole wild goose, about 7-10 pounds
Preparation
Pre-heat oven to 375 degrees F.
Melt the butter in a large sauce pan over medium-low heat. Add the carrots, celery, onions, apple and garlic. Sauté for 8-10 minutes. Add the stock, wine, parsley, rosemary, thyme, bay leaves, salt and pepper. Turn up the heat and bring to a boil for about 1 minute. Lower the heat to medium-low and simmer for 6-8 minutes.
Pour the vegetables and liquid into a large roasting pan fitted with a lid. Turn the bird breast-side down and nestle into the vegetables and liquid. Spoon some of the liquid and vegetables over the goose and add more water (or wine if you like) to submerse the bird half-way. Cover and roast about 1 1/4 hours. Turn the bird over, facing up, and cook another 15 minutes, uncovered or until a meat thermometer registers 160 degrees F when inserted next to the leg bone.
Remove and let the bird sit for about 10 minutes before carving. Spoon some of the juice and vegetables over each portion of sliced meat and potatoes.
Serves 4-6.
REAL LIFE. REAL NEWS. REAL VOICES.
Help us tell more of the stories that matter from voices that too often remain unheard.