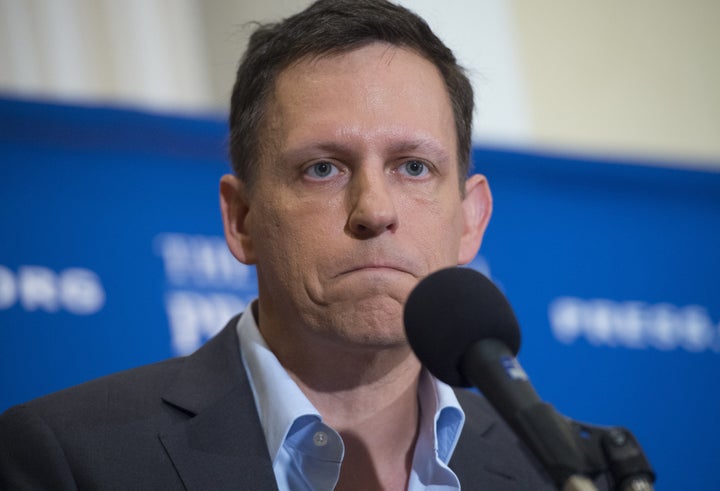 Peter Thiel, the Silicon Valley investor who helped fund a devastating lawsuit against Gawker Media, is no longer trying to take over what remains of the site.
The PayPal co-founder has specifically agreed to not remove Gawker's content from the internet or to pay anyone else to do so on his behalf, according to documents filed Wednesday with the U.S. Bankruptcy Court of the Southern District of New York.
By agreeing to not purchase Gawker Media, Thiel will avoid potentially embarrassing legal retaliation over his funding of the lawsuit, which ended up awarding $31 million to retired professional wrestler Hulk Hogan. Gawker published a video in 2012 showing Hogan, whose real name is Terry Bollea, having sex with a woman then-married to radio personality Bubba the Love Sponge.
Once Thiel's involvement in the Hogan case became public, a theory that he had fostered a long-simmering grudge against Gawker swiftly arose ― the site had outed him as gay in 2007. A billionaire who serves on the board of Facebook, Thiel belongs to a small pool of conservative Silicon Valley bigwigs and largely keeps his private life under wraps.
For his part, Thiel said he threw his support behind Hogan simply to curb Gawker's "bullying."
When he submitted a bid to purchase the site earlier this year, speculation swirled over whether he might use the opportunity to purge stories he felt were damaging to his personal reputation ― or maybe even wipe Gawker completely off the map.
The agreement between Thiel's firm, Thiel Capital, and lawyers handling the liquidation of Gawker Media's assets must still be approved by the court. If approved, it may finally clear the path for a sale of Gawker Media, which includes the Gawker.com domain name and a 200,000-plus article archive. Lawyers believe the package will fetch a higher price without Thiel in the picture, according to the filings.
Under his settlement with Gawker Media, Hogan will be entitled 45 percent of proceeds from the sale, too.
Yet many of the company's most valuable assets, such as sites Jezebel and Deadspin, are already gone. Univision Communications snapped them up for $135 million in 2016.