A Russian billionaire has stepped up to save the stray dogs roaming Sochi by setting up a shelter in the mountainside.
Oleg Deripaska, one of the nation's billionaire oligarchs and a financial backer of the 2014 Winter Games, supported a shelter set up to save the stray dogs that were ordered to be killed ahead of the Olympics.
"We were told, 'Either you take all the dogs from the Olympic Village or we will shoot them,'" Olga Melnikova, the coordinator of the animal rescue effort run by the charity Volnoe Delo and funded by Deripaska, told the New York Times last week.
The makeshift shelter was set up on the outskirts of Sochi and is being called, PovoDog, which is a play on the Russian worse for "leash," the New York Times noted.
Prior to the games, ABC News spoke with the owner of the company hired to kill the stray dogs. Alexei Sorokin said the animals posed a danger to both the athletes and tourists in the village.
"Imagine, if during an Olympic games, a ski jumper landed at 130 kilometres an hour [over 80 mph] and a dog runs into him when he lands. It would be deadly for both a jumper and for the stray dog," he said. Later adding, "I am for the right of people to walk the streets without fear of being attacked by packs of dogs. Let's call things by their real name. These dogs are biological trash."
Deripaska says he has always loved dogs but it could be that he sees his investment and the reputation of Sochi as more of a reason to step in than to rescue a few mutts from Olympic oblivion. His ambition is to transform Sochi, a somewhat faded resort - if that is the correct description - on the Black Sea, into a thriving, modern tourist destination.
Now, some of the pups are safe on the hillside.
As for the strays left on the streets, activists have been scooping them up and bringing them to shelters or temporary homes. These dogs can be adopted over the phone or via email, but it is much easier to do in person, Kelly O'Meara, Humane Society International director for companion animals and engagement, told USA Today.
Before You Go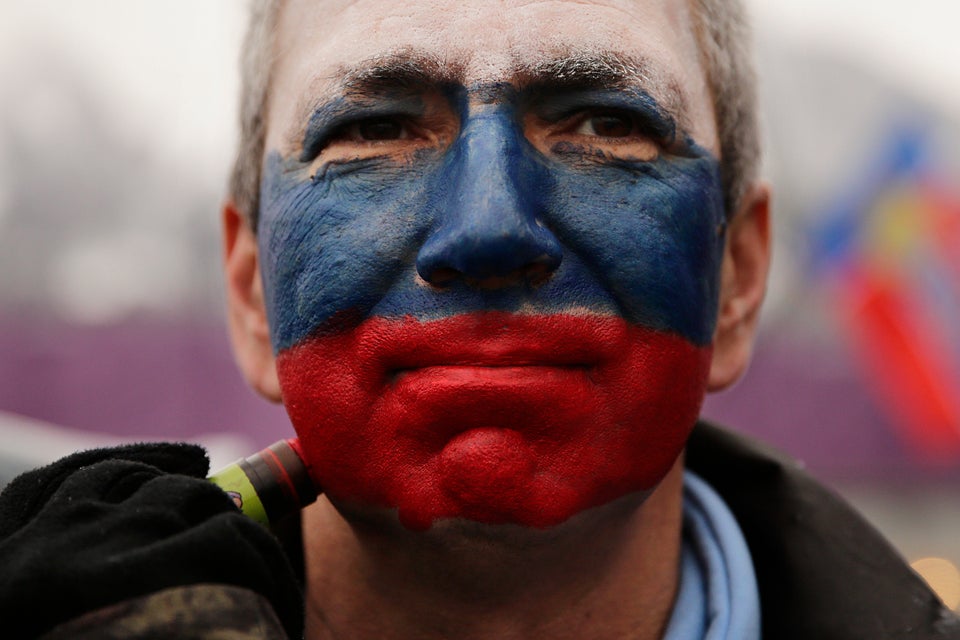 2014 Sochi Olympics Photos
Popular in the Community