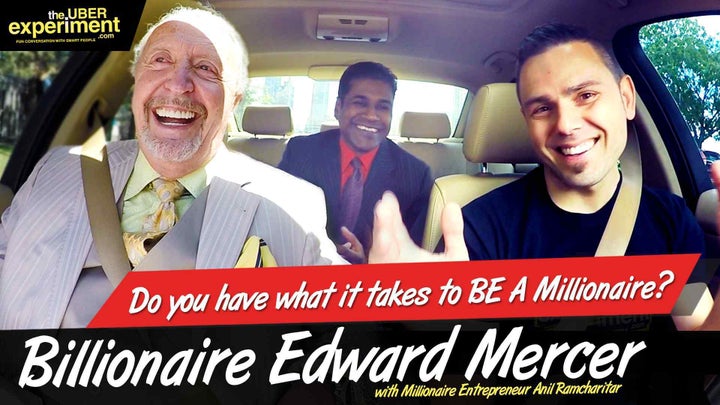 Billionaire Ed Mercer's quest to turn 100 regular people into millionaires for his fifith Guinness World Record was stated on The Uber Experiment Reality Show the other day.
There are currently 9.5 million people in the world with a total net worth of $1 million or more.
A more exclusive Billionaires Club is composed of 1,426 high achievers in the entire world. Marcin Migdal is an Entrepreneur and host of the business reality show The UBER Experiment spent two hours with one charismatic billionaire Ed Mercer and his business partner Anil Ramcharitar.
Ontario born billionaire businessman, speaker and philanthropist Ed Mercer calls on The UBER Experiment reality show to share his life story and upcoming legacy project in an exclusive 2 part mini-series documentary.
Mercer spent over 50 years in Network Marketing and became a self-made millionaire at 27 by popularizing such toys as the Mood Ring, The Bird That Dips Into Glass of Water, and the Glowing Yo-Yo in the Canadian marketplace.
Serial Entrepreneur & Host of The UBER Experiment Marcin Migdal takes you on a journey of Ed's life, career as this billionaire leads his Guinness Book of 2016 World Records project with his business partner Anil Ramcharitar.
What is the legacy project? Ed announced his intention to set his FIFTH Guinness World Record by personally mentoring 100 truly motivated, entrepreneurial people with the goal of making EACH of these 100 people a millionaire within 18 months. Edward R. Mercer is the author of the book The Eight Grade Millionaire, Millionaire Mentor and a top motivational speaker.
Ed Mercer has already four Guinness World Records for helping 50 people becoming millionaires. Yes you also have a chance to become an UBER millionaire, watch the full episode to learn if you qualify. Those successful in achieving millionaire status with Ed's support will be part of an emerging Reality Television show that will be aired on a major Television Network across North America.
"Every week I'm contacted by hundreds of people needing help. Don't get me started on the economic statistics! Job security is non-existent. Families are falling apart and people don't know where to turn. You can't fix the problem by simply giving people money. We're willing to help anyone, but you must be committed to work." stated Mercer. "I am looking for average, normal people that have the drive and ambition to be successful, but simply need a break to open that door and make it all happen." Continued Mercer.
As with most high achievers and entrepreneurs, Mr. Edward Mercer's drive for success was fueled by his traumatic childhood and environment he grew up in. Ed has gone from extreme poverty to extreme wealth, explicit happiness and illumination in his life. Coming from a condemned home with no running water, no flooring, no electricity, where two of his brothers died of drug overdose, his youngest shot to death, his remaining brother and father died of cancer and despite all odds, it's no wonder Ed found himself on the street at fifteen years old.
"We had to melt snow over a wood stove in the winter just to have something to drink" said Mercer. He started living on the streets at fifteen and found himself in and out of juvenile detention centers until a life changing moment in front of a judge. "I realized the pain I was causing others and wanted to make a positive impact instead" recalled Mercer.
Ed Mercer moved to Costa Rica in the 1980s and only returned to Canada in late 2015. He is known as "Mr. Costa Rica" for championing numerous environmental causes and donating millions of dollars to the Homeless and Humanitarian Project which included building world's largest sanctuary for various tropical birds, turtles, and monkeys.
"I hired an army of armed men to protect the sanctuary" stated Mercer.
Ed is the largest private landowner in Cost Rica and was inducted into the Environmental Hall of Fame in 2008, he has also worked with National Geographic, Habitat for Humanity, Save the Children, Wild Life Association and World Wildlife Society.
"I spent half my life building my fortune and I want to spend the other half giving it away" said Mercer.
Having spent over half a century in the industry, Mr. Mercer has been one of the top leaders in the direct marketing industry. He has shared the stage with Donald Trump, Richard Branson, president Bill Clinton and with 140 top speakers in the world including Jim John, Randy Gage, Anthony Robbins, Zig Ziglar, Les Brown, and Robert Kyosaki just to name a few and has build MLM distributorship in 86 countries with a team size of a whopping 1.3 million distributors with his colleagues.
Learn all the facts behind Mercer's reasons for giving back to the world on the full 1 hour episode below and on TheUBERExperiment. Anyone interested in participating in billionaire Mercer's 100 Millionaire challenge for the Guinness World Record and being part of the show is encouraged to watch the full Uber episode below to get all the information and contact Mr. Mercer's business partner Anil Ramcharitar at success@anilnow.com or visit www.ubermillionaire.com.
We hope you enjoyed another thrilling ride on The Uber Experiment with your favorite Toronto driver that films and investigates CEOs, JOEs and entrepreneurs and tells you how it is. So come on the show #comeforaride on #theuberexperiment #realityshow
Thank you for stopping by the channel! If you enjoyed, join the family by clicking here http://bit.ly/265zerc
More Episodes, Behind the Scenes, Contests & Giveaways at http://theuberexperiment.com
----------------------------------------------------------
About The Uber Experiment Reality Show
The UBER Experiment is a business reality show on wheels with a dash of comedy. Imagine Shark Tank in a Cash Cab ! A Serial Entrepreneur and Investor poses as Toronto UBER driver who en route engages in smart, fun, light hearted conversations about business, ideas, career advice & passion. Riders promote their skills and companies and even receive prizes.
Credits: Article Written by Marcin Migdal. Associate Editor: Wesley Juma
Special Thanks to: MAP Entertainment, UXE Films, Courtney Brown.
Popular in the Community