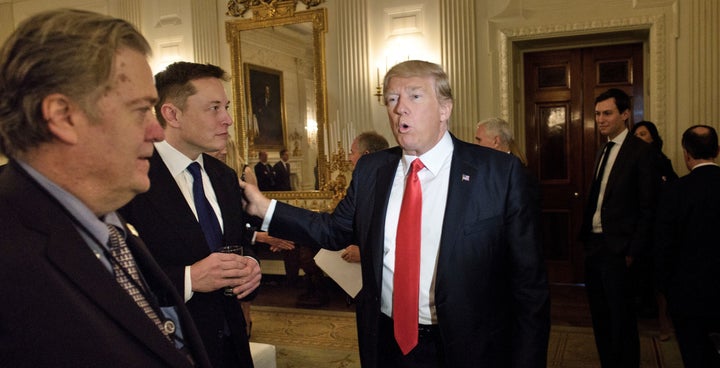 Over the weekend, a massive, mysterious chunk of metal washed up on a beach on the island of Ocracoke in North Carolina's Outer Banks. Measuring 10 by 6 feet and emblazoned with strange symbols and serial numbers, it appeared to be a part blown off of some enormous machine. On Tuesday morning, SpaceX, the secretive extraterrestrial venture of billionaire Elon Musk, confirmed that the strange object was a piece of one of the company's rockets. Exactly how and why it ended up in North Carolina ― SpaceX launches from Florida and California ― remains unclear. 
Also on Tuesday, Musk agreed to pay $20 million to settle securities fraud charges from the Securities and Exchange Commission. Musk sent misleading tweets about securing funding to buy Tesla ― the electric car company where he serves as CEO ― at the colossal price of $420 a share. He hadn't arranged anything of the sort, and it is flagrantly illegal for executives to boast in public about pending mergers that don't exist.
He also works for the government. SpaceX makes money by launching satellites into space on behalf of institutional clients, including NASA and the U.S. Air Force.
Musk is, of course, not the only very strange, very rich man involved with the U.S. government. In two blockbuster investigations published this month, The New York Times revealed that President Donald Trump and his sidekick son-in-law Jared Kushner avoided paying taxes for years. In Trump's case, the dodge allegedly involved outright fraud. Kushner's arrangement may be more outrageous because it appears to be perfectly legal.
The superrich are fast becoming a breakaway society of their own that prevents our government from functioning properly.
The word for people like Trump, Kushner and Musk is "billionaire" ― a word only tangentially related to financial wealth. Its real meaning has to do with social accountability. A billionaire is someone who is no longer subject to at least some rules and standards that govern behavior: They exist outside society, and as a result of this social distance, they are frequently delusional. Billionaires are, by definition, a danger to any democracy.
Nobody expects Trump to be impeached by this Congress over tax fraud. The SEC's case against Musk was open and shut. He could and should have been barred from the corporate world. Instead he received a fine equal to a little less than one-tenth of 1 percent of his $23 billion net worth. Kushner pays no taxes on millions of dollars in income while ordinary people ... well, pay taxes. These are people who our government treats with special, undeserved deference.
Financially, it doesn't really matter all that much to the U.S. government that Kushner doesn't pay taxes or that Musk escapes serious fines while luxuriating in plush government contracts. Money is a tool that governments manage to address social needs, and there are many ways to ensure that those needs are met. If the richest country in the history of rich countries wanted to provide health care or guarantee good-paying jobs for its citizens, it could do so with or without money from Kushner and Musk.
The billionaire problem is instead political. The superrich are fast becoming a breakaway society of their own that prevents our government from functioning properly. Consistent with long-standing Republican policy goals, the Trump administration's agenda has unleashed the billionaire class from taxes and regulations ― monetary instruments of social accountability ― while aiming to substitute private rents and tolls for public services. The effect is to further dismantle a democracy accountable to citizens and replace as much of it as possible with an aristocracy accountable to no one.
Consider the grand vision of Musk's top competitor in the space race, Jeff Bezos, who said he considers his Blue Origin rocket program his "most important work." Bezos pours about $1 billion of his Amazon stock a year into the company, which he claims will eventually provide "infrastructure" for space work. Infrastructure is government business. Launching satellites into orbit and building out space stations are missions that governments can fulfill and have fulfilled. We do not need a special kingpin building interplanetary toll roads.
In the meantime, Bezos plans to charge over $200,000 for tourism rides on his Blue Origin rockets ― a breathtaking new experience for the superrich to enjoy as they quite literally look down on the entire world.
Calling all HuffPost superfans!
Sign up for membership to become a founding member and help shape HuffPost's next chapter