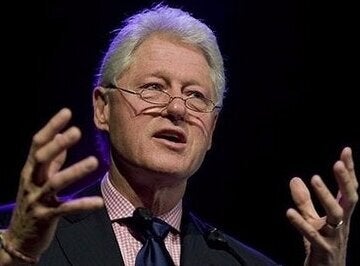 It would be interesting to know how the average New York voter would respond when told that during the past three years their Senator and her spouse personally received $2.1 million from such major banks as Goldman Sachs ($800,000), Lehman Bros. ($300, 000), Citigroup ($425,000) and Deutsche Bank ($300,000).
The money -- honoraria payments to former President Clinton -- demonstrate that the conflicts between Bill Clinton's multi-million dollar financial entanglements and his wife's possible selection as Secretary of State are just as relevant in the case of the elected office Hillary Clinton currently holds, raising to front and center the same glaring conflicts of interest that have gone largely overlooked during Hillary's eight years in the Senate.
Sources close to the Clintons sought to justify the ex-president's speaking fees by noting that wealthy spouses of other Senators, including the wives of John Kerry of Massachusetts and John McCain of Arizona, have multi-million dollar fortunes, often invested in the stocks of companies that stand to gain or lose as a result of tax and regulatory decisions made by Congress.
Still, the Clintons' situation has some particularly egregious aspects. The New York Senator has been as much the beneficiary as her husband of the up to $10 million a year in honoraria Bill has earned. Almost all of the Clintons' assets are held jointly, and they file a joint income tax return.
The potential for conflict of interest in this situation is most easily visible in the case of major legislation presently under consideration in Washington. If Hillary stays in the Senate, the most pressing issue will be the financial crisis. She has already voted for the $700 billion bailout bill, which is likely to be only the first step in federal attempts to pull the economy out of its nosedive.
According to the Center for Responsive Politics, Senator Clinton has not only received campaign contributions from the investment and securities industries -- industries with huge stakes in the outcome of measures almost certain to be taken up in 2009-10 -- but Bill and Hillary together have also taken as personal income, for their own use, millions of dollars paid to Bill in the form of honoraria, running from $125,000 to $325,000 for a single speech to interest groups directly affected by his wife's legislative position. The Clintons are not alone in the practice, but they have raised the stakes to unprecedented heights. In 2006, for example, Joe Lieberman's wife spoke to the Jewish Community Relations Council in Philadelphia, the Jewish Federation of Central Alabama, and the Junior League of Dayton making a total of $34,000 --- chump change compared to the $10,232,000 (yes, that's ten million+) Bill Clinton made in honoraria the same year.
Looking just at the finance industry over the past three years, in 2007 three major investment banking firms -- Goldman Sachs, Lehman Bros. and Citigroup - already on center stage in the financial downturn, each paid Bill Clinton $150,000, for a total of $450,000, for single speeches to company officials and their guests. The year before that, 2006, the Mortgage Bankers Association, Citigroup and Lehman paid Clinton a total of $600,000. In 2005, Deutsche Bank paid $300,000 for two speeches; Goldman Sachs paid $525,000 for three appearances in Paris, Greensboro, Ga. and Kiawah Island, S.Car. In 2004, Bill Clinton's honoraria included $250,000 from Citigroup and $125,000 from Goldman Sachs.
This $2.25 million does not include payments to Bill Clinton from such closely-related firms as Swedish industrial holding company Investor AB ($325,000), Dutch real estate investment company OVG Rotterdam ($250,000); U.S. real estate developer Cushman and Wakefield ($300,000); General Motors ($200,000) which is pleading for a piece of the bailout; the National Apartment Association ($150.000); the National Association of Realtors ($125,000); the Standard Bank of South Africa ($150,000); and the National Multi-Housing Council ($150,000).
The involvement of the financial and real estate sectors in domestic politics is immense, no matter which way you look at it. So far this year, according to the Center for Responsive Politics, the investment and securities industry has given a total of $53 million in campaign contributions to federal candidates; and real estate has put up $51.1 million. The courts have ruled that these contributions do not, except under highly unusual circumstances, constitute bribes or illegal gratuities; instead, they are simply part of the business of serving in public office.
Philippe Reines, Senator Clinton's spokesman, responded to an inquiry regarding any potential conflict of interest between her large income from honoraria paid to her husband by the industries which are subject to regulation (or largesse) noted that the Senator "files an annual personal financial disclosure, which delineates every penny President Clinton receives from speaking, as well as every general income source. The whole point of requiring the 535 members to do that annually is to provide transparency." Asked whether the millions of dollars in direct payments from finance and real estate companies to Bill Clinton pose an ethical dilemma for Senator Clinton when she votes on measures such as the $700 billion bailout bill, which provides subsidies to the same firms which pay her husband, Reines said the "example of the bailout is misleading, in that every member who voted for it benefits in some way from saving the financial system from collapse - unless they keep their life's worth in gold ingots."
Popular in the Community