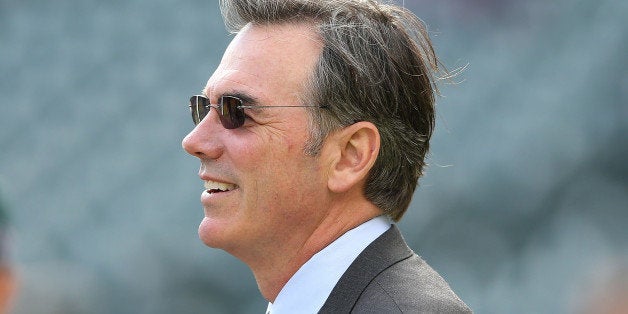 The term "Moneyball" is used to represent a number of different things in baseball. Critics use it as shorthand for an overly statistical analysis of the game that overlooks the human side of baseball. For others, "Moneyball" refers more generally to statistically sophisticated approaches to understanding baseball. The term is also sometimes is used to describe a style of baseball that values on base percentage, walks and home runs more than batting average and making contact.
Michael Lewis' 2003 book Moneyball, which brought the term to baseball, is primarily about none of these things. It is also, in many respects more a book about business strategy than baseball. The central thesis of Moneyball is not that on base percentage is more important than batting average, or even that baseball is better understood by advanced statistical metrics. Rather, the book is an exploration of market inefficiencies and how they can be applied to baseball. The example of this that is most apparent in Lewis' case study, the Oakland A's of the early Billy Beane era, is that the ability to draw walks was, at that time, undervalued by the market, while other indicators, notably batting average were overvalued.
More than a decade after Moneyball was written, on base percentage, and the ability to draw walks are no longer undervalued by the market. Accordingly, identifying the new market inefficiency is an ongoing challenge for all teams. Billy Beane, the name most associated with Moneyball, may have just found one.
Last week, Beane made what might seem like a very unusual trade for a man who built his reputation, in some part, by stockpiling prospects and trading away established stars. Beane sent a package of prospects to the Chicago Cubs in exchange for veteran pitchers Jason Hammel and Jeff Samardzija. Samardzija has been one of the best pitchers in baseball this year. The key to the trade was Addison Russell, the top prospect in the A's system and one of the top prospects in the game. Russell is a 20-year-old shortstop who, before the season started, was rated among the top 20 prospects in all of baseball by MLB.com, Baseball Prospectus and Baseball America. At the time of the trade, he was hitting .333/.439/.500 for the A's double A affiliate in Midland, Texas.
Russell could develop into a star shortstop and contribute at the big league level for many years. This is obviously what the Cubs are hoping will happen. However, there is also the very real possibility that Russell will never make it in the big leagues, have a mediocre career, get injured or simply never live up to expectations. This happens to prospects frequently, even those as well-regarded as Russell. Jurickson Profar, last year's top rated shortstop prospect is injured and out for the entire 2014 season, placing his future in some doubt. This remains true despite the improvements in scouting and drafting that have reduced uncertainty in projecting prospects.
Beane's recent trade is relatively easily explained by the likelihood that Beane is trying to build an A's team that will play deep into the playoffs and possibly win the World Series, something they have not done since 1989. It is also possible that Beane sought to exploit a new market inefficiency-the overvaluation of prospects. The growth of prospect analysis, the knowledge fans have of prospects, and the improvements in scouting and drafting have all contributed to an environment where teams are reluctant to part with their prospects, and covet the top prospects on other teams.
By trading a top prospect in this environment, Beane was able to get the maximum return for Russell. It is still very possible that Russell will become a good player and that the A's will regret this trade, but in exchange for Russell, the A's were able to bolster their pitching with two new members of their rotation. Samardzija and Hamel are under contract until the end of 2015 and 2014, so this trade not only makes the A's the favorite to win the World Series in 2014, but makes it very likely they will be a strong contender next year as well. It wasn't that long ago when a top prospect would bring in one pitcher on the cusp of free agency, Russell brought the A's a lot more than that.
Beane first became well known for flipping veterans for prospects, at times seeming to do this for its own sake with little regard for the bigger picture of the team's future. By demonstrating his ability to do the reverse, and in a very productive way, Beane has reminded us why he was one of baseball's most innovative executives. With this approach, it is just possible that in 2014 Beane's sh#t will work in the playoffs.
Popular in the Community