Billy Bob Thornton and Angelina Jolie might've had a few differences (like their 20-year age gap), but the Hollywood couple seemed like a match made in media heaven when they began dating in 1999 and married the following year. 
They wore vials of each others' blood around their necks, talked about their need for a padded room because their sex was so crazy, and even gave each other his-and-hers grave plots.
While the gravestone gifts may have suggested the two would be together forever, they split in 2003. Thornton opened up about exactly why they parted in a recent interview with the "HFPA in Conversation" podcast. 
"I remember our time together as really being great," Thornton said. "We just had different lifestyles. Hers is a global lifestyle and mine is an agoraphobic lifestyle. So, that's the only reason we're probably not still together ― maybe ― because of a different path in life we wanted to take."
Thornton also addressed those vials of blood the two used to wear, and said "crazy" reports of their time together were "exaggerated."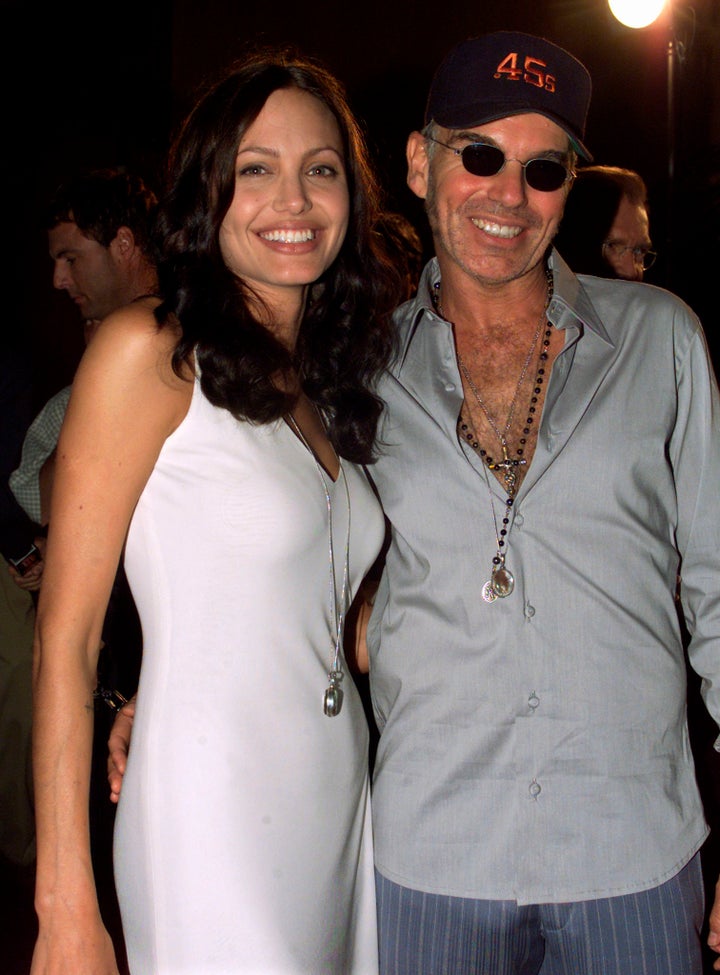 "The necklaces were a very simple thing: 'Hey, let's poke our fingers with a pen and smear a little blood on there, and when we're away from each other we'll wear the necklace.' It was that easy," he said. "But by the time it came out in the press, it sounded like we were wearing a bucket of blood around our necks." 
Thornton added: "We had so much fun. A lot of the things they said about us at the time were exaggerated. It wasn't as crazy as people wrote about it, you know what I mean?" 
"It was never a vial ― It was like a flower press," she said. "It was like from a slight cut on your finger and you press your fingerprint in. It was kind of a sweet gesture. I thought it was kind of romantic!"
Today, Thornton and Jolie remain friendly with each other. The actress even wrote the foreward to Thornton's book, The Billy Bob Tapes: A Cave Full of Ghosts, back in 2012. 
"I look at that time as a great time," Thornton said on the podcast. "Angie is still a friend of mine and she's a great person, and she's done so much." 
Listen to the entire podcast conversation below: 
REAL LIFE. REAL NEWS. REAL VOICES.
Help us tell more of the stories that matter from voices that too often remain unheard.
BEFORE YOU GO
PHOTO GALLERY
Celebrity Photos