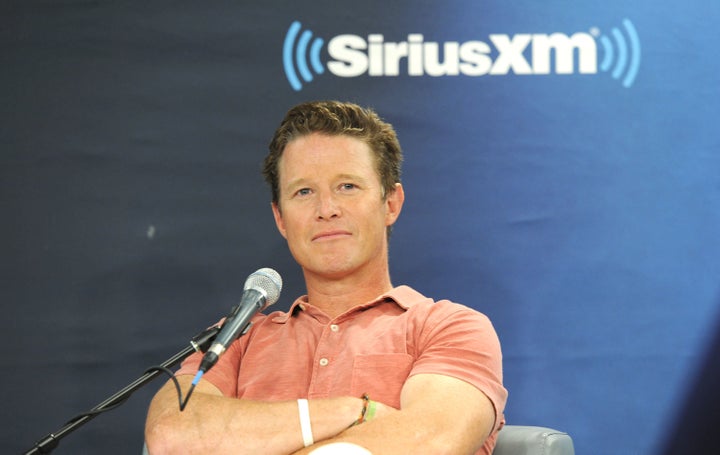 Former "Access Hollywood" superstar and "Today" show host Billy Bush is ready to get back to work, some seven months after being fired for his role in a 2005 recording in which Donald Trump bragged about sexually assaulting women.
Bush, the nephew of former President George H.W. Bush and cousin of former President George W. Bush, was suspended and then fired by NBC 10 days after the contents of the recording were reported. He received a multimillion-dollar severance package, and Trump went on to become president.
"That early part was just chaos," Bush told The Hollywood Reporter. "But then things progressed, and when you have a big, traumatic event, you go through stages, and it led to acceptance and understanding. And then I found myself in a place of soul searching. And I developed a commitment to become a better, fuller man."
Bush went on to say that once the tape was released, he initially expected to "work through it."
"I put together an apology right away, the one you saw; I told people that I was ashamed and embarrassed. And I was," he told the Reporter, later describing his participation in the clip as "awful."
"It was my first year as co-host of 'Access Hollywood,' and I was an insecure person, a bit of a pleaser, wanting celebrities to like me and fit in."
Bush noted he was frequently around Trump during the time the recording was made, when Trump's show "The Apprentice" was a primetime behemoth in its second season. He said he hadn't heard such a profane level of commentary about women ("I just start kissing them. It's like a magnet. Just kiss. I don't even wait.") from the then-reality star before.
"I don't recall anything to that degree," Bush said. "But he's a provocateur. Shocking statements flow like wine from him. And he likes to captivate an audience."
"I felt that, in that moment, he was being typically Donald, which is performing and shocking," he went on. "Almost like Andrew Dice Clay, the stand-up comedian: Does he really do the things that he's saying or is that his act? And in Donald's case, I equated it that way. When he said what he said, I'd like to think if I had thought for a minute that there was a grown man detailing his sexual assault strategy to me, I'd have called the FBI."
Bush went on to say he spent time at a weeklong retreat as part of a soul-searching initiative, and spent time with self-help guru Tony Robbins that included walking on fire.
"And I've done a lot of reading. I'm reading a book now called 'The Power of Now,' by Eckhart Tolle. I've gotten into a lot of meditation and yoga. Mindfulness meditation is a powerful thing."
He said he has no desire to interview Trump after the scandal and has not heard from the president since. But he plans to return to television in the future.
"I have changed in a way that I think will make me better at my job," he said.
Calling all HuffPost superfans!
Sign up for membership to become a founding member and help shape HuffPost's next chapter